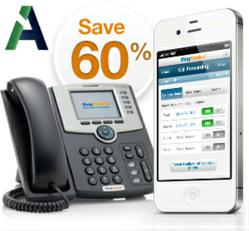 "With the addition of cloud communication services, the iAdvantage Suite is more than a toolkit for running an existing small business, it is now a valuable tool for starting or launching one as well."
Westlake Village, CA (PRWEB) September 18, 2012
iAdvantage, recently launched provider of small business software tools, is pleased to announce its new partnership with cloud-based phone system provider RingCentral. This new partnership marks an important time for iAdvantage, as it will begin to offer an expanded set of small business tools including cloud based telecommunication solutions as part of its iAdvantage Software Suite.
In addition to offering many basic tools for running a small business including tools for building a website, email hosting, accounting software, and cloud storage, iAdvantage will now also provide small business owners with discounted cloud-based phone and fax products in the iAdvantage Suite, with the goal of making business operations even simpler.
"The addition of RingCentral's offerings to the iAdvantage Suite has matured our overall product offering and will really help distinguish our product from our various competitors." said Keith Mantia, Manager of Marketing & Agent Relations at iAdvantage, "With the addition of cloud communication services, the iAdvantage Suite is more than a toolkit for running an existing small business, it is now a valuable tool for starting or launching one as well."
About RingCentral
RingCentral is the #1 provider of cloud business phone systems designed for today's mobile and distributed workforce. By combining a hosted, multi-extension business phone system with advanced voice and fax functionality, RingCentral delivers ease of use, flexibility and mobility, which cannot be provided by complex and expensive on-premise legacy phone systems. Headquartered in San Mateo, California, RingCentral is privately held with backing from Sequoia Capital, Khosla Ventures, Cisco, Scale Ventures, and DAG Ventures.
About iAdvantage
iAdvantage is a product suite designed to help small businesses run more efficiently and cost-effectively. Since officially launching under parent Merchant Processing company iPayment Inc. in January 2012, iAdvantage has continued to develop and expand its suite to offer robust business solutions to its existing merchant base. To learn more, visit http://www.iAdvantageSolutions.com.
For additional information on iAdvantage news or for prior Press Releases visit http://www.iAdvantageSolutions.com/PR or http://www.Facebook.com/MyiAdvantage. For any other marketing related requests contact iAdvantage Marketing at marketing(at)iadvantagesolutions(dot)com.