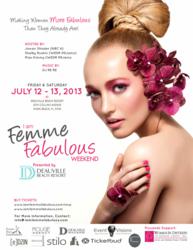 Making women more Fabulous than they already are...
Miami Beach, FL (PRWEB) April 15, 2013
I am Femme Fabulous Weekend http://www.iamfemmefabulous.com, presented by Deauville Beach Resort, is scheduled to kick off the world famous Miami Swim Week in Miami Beach, FL. The event will occur on both Friday July 12, 2013 and Saturday July 13, 2013 from 12PM – 8PM in the Richlieu Ballroom overlooking the beautiful Atlantic Ocean. The fashion fused empowerment event is focused on creating an invigorating weekend getaway that is geared to make women more fabulous than they already are. Guests of I am Femme Fabulous Weekend will be introduced to a variety of products and services in industries such as Fashion, Beauty, Health, Fitness, Spa Services, Art and Music.
I am Femme Fabulous Weekend, the ultimate two-day women's empowerment fashion event will be hosted by Miami's Celebrity Personalities on Television and Radio: Jawan Strader of NBC 6, Shelby Rushin of WEDR/99JAMZ & Miss Kimmy of WEDR/99JAMZ. Music will be provided by DJ Re Re, a Female DJ in Miami, FL.
For a limited time, tickets are available via TicketBud, at a 50% discount using PROMO CODE: IamFemmeFab on http://www.iamfemmefabulous.com/rsvp/tickets.
A portion of the proceeds will be donated to Women In Distress of Broward County, a 501(c)3 Not For Profit Organization, the only nationally accredited, state-certified, full service domestic violence center serving Broward County. Women In Distress offers 24-hour crisis intervention through their Crisis Hotline and emergency shelter, as well as counseling and support for victims and their children. The organization also provides education and professional trainings on domestic violence and related topics in Broward County schools and in the community.
MAIN EVENTS
FASHIONABLY FABULOUS Seminar (Friday, July 12, 2013)
The Fashionably Fabulous Workshop is a One-Day Seminar blending Empowerment, Business & Fashion. The Seminar features credible guest speakers promoting Motivation, Self Confidence, Health & Wellness, Entrepreneurship, Financial Freedom, Fashion & Beauty, Marketing and much more. The purpose of the seminar is to raise awareness to topics that promote the increase of Women Leaders in a variety of Jobs, including business and of course, fashion.
The Fashionably Fabulous Seminars inspire the Mind, Body, Spirit, Style, featuring speakers such as: America's Top Fashionista, Fashion Publicist Crosby Noricks of PR Couture; Miami Kemetic Instructor, Fabienne Claude; Award Winning Author, Christian De La Huerta; Dancer / Founder of Nest of the Living Arts, Nolwen Lalanne.
I am FEMME FABULOUS EXPO (Friday July 12, 2013 & Saturday July 13, 2013)
The ultimate two-day shopping event in Miami for the Femme Fabulous at Deauville Beach Resort in Miami Beach, FL. Be introduced to a variety of products and services in industries such as Fashion, Beauty, Health, Fitness, Food, Wine, Spa, Art and Music. Featuring over 20 Pop Up Shops, Fashion Shows, Raffles, Give-a-ways and so much more. VIP attendees will receive complimentary gift bags filled with products samples, gift certificates and coupons for the Femme Fabulous.
** A Few Vendor Spaces are still available.
EVC STYLE RUNWAY (Friday July 12, 2013 & Saturday July 13, 2013)
EVC STYLE Runway is a two-day, state of the art fashion event featuring some of today's most promising and successful designers in Fashion, such as: Lila Nikole (BET's Rip The Runway), Chong Cha (Previous Rampage and Iconix Brand Group Fashion Designer), Samantha Cole London (Vogue Magazine's 2009 "One To Watch" Fashion Designer) and Shannon Pusey (Miami).
EVC Style is made up of agency-quality models from Miami's Top Agencies, such as Sponsored Partner, (Agency Rouge), professional hair & make-up teams, and is coordinated and produced by Fashion Show Innovations and Event Visions Consulting. Our Production Team's past clients include, Mercedes Benz Swim Week: Red Carter, Vitamin A, Gen Art, Funkshion, Miami Fashion Week and more.
TAFARI AWARDS Luncheon (Saturday, July 13, 2013)
The "Tafari Awards" Brunch is a charity luncheon held to honor successful women who inspire others through their perseverance, drive and motivation; all of which have led to their achievements, such as City of Miami Gardens, Vice Mayor Lisa C. Davis; Actress, Singer, Poet, Deborah Magdalena; Chair Person of the Miami Beach Chamber of Commerce's Women Business Council, DeAnne Graham; Surprise performances and more. The event features a formal three-course lunch, fashion show, special performance, networking opportunities, and special door prizes and give-a-ways.
HOSTS
Shelby Rushion: Music Director and Midday Personality for WEDR/Miami (99JAMZ).
Javan Strader: Co-Anchor on NBC 6 South Florida Today, weekdays from 5-7am.
Miss Kimmy: Morning Show Local Co-Host for the Rickey Smiley Morning Show on WEDR/Miami (99JAMZ).
For more information on our hosts, please visit our website, http://www.iamfemmefabulous.com.
SPECIAL GUESTS
Angela Thomas: Eight-time self-published author and certified professional speaker, model, life coach, entrepreneur and inspirational columnist writer for Trendsetters 2 Trendsetters Magazine in Atlanta.
Fabienne Claude: Kemetic Yoga Instructor.
Christian De La Huerta: Writer, speaker, retreat and group facilitator for over 20 years, and author of the award-winning and critically-acclaimed book "Coming out Spiritually."
Crosby Noricks: PR professional and Social Media Maven.
Deanne Graham: Chair Person for the Women's Business Council
Nikki Rich: Radio personality, CEO of "The Nikki Rich Show."
Nolwen LaLanne: Professional Dancer and Founder – Nest of Living Arts.
For more information on our special guests, please visit our website:
http://www.iamfemmefabulous.com
ABOUT I AM FEMME FABULOUS STAFF
CAROL MODA CREATIVE, Creative Director (http://www.carolmoda.com), Public Relations and Marketing. CAROL MODA CREATIVE, is a full service boutique agency that offers a wide variety of Advertising, Promotions, Consultation,Creative Business Development, Strategic Marketing, Product Placement, Lifestyle Branding and Public Relations Services. CAROL MODA CREATIVE markets itself as a stand alone or an extension to other notable Firms.
EVENT VISIONS, Executive Producer (http://www.eventvisions.com), A full service company that bridges Public Relations, Event Production & Management, and Brand Marketing with a combination of the latest technology and the creative aptitude needed in compete in today's rapidly changing business environment. Their mission is to coordinate innovative events that utilize strategic partnerships and integrate sustainable products and services to better our community socially, economically and culturally all while providing clients with top notch service to best promote their brands.
CHARLENE MERIEDY of FASHION SHOW INNOVATIONS, Fashion Show Director, GRANDE Lady of Fashion Events...Owner of Fashion Show Innovations [FSI - Productions and Promotions]...Fashion Show Producer /Director/ Stylist / Runway Coach ... Past Clients and Work Include: Gen Art, Mercedes Benz Miami Swim Week (Red Carter, Vitamin A) ,Burdines. Director of Double Digits Plus ..Show producer of Real Women Shaping Style ....Founder of the CURVY Closet Project and fabulous Host of FULL Fashion Exchange social & fashion Networking event for "real -size" women.