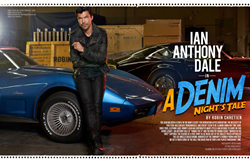 (PRWEB) September 03, 2014
The July issue of YRB Magazine features an interview with Robin's Jean Owner and Founder, Robin Chretien, and an editorial photographed at the Robin's Jean HQ in Downtown LA with "Hawaii Five O" actor, Ian Anthony Dale. Dale models the latest styles in the collection as while showcasing Chretien's amazing collection of vintage props, neon signs, motorcycles and classic cars!
Dale will appear as series regular Lieutenant Jim Koto in TNT's "Murder In The First" from creator Steven Bochco.
He is often recognized for his break-out role in NBC's acclaimed series "The Event" as double agent Simon Lee. His additional television credits include a series regular role on "Surface," and recurring roles on "Day Break," "24," and "Criminal Minds." He has also appeared on "American Horror Story," "The Mentalist," and all three shows in the "CSI" franchise. Feature film credits include "The Hangover," "Tekken," "The Bucket List," and "Mr. 3000." Dale is also part of the most watched web series of all time "Mortal Kombat: Legacy" where he plays the iconic Scorpion.
The ten page YRB editorial was shot by fashion photographer Odessy Barbu and its talented Fashion Director, Darius Baptist.
Robin's Jean features a unique collection of jeans, jackets, tops, hats and belts for men and women designed by Robin Chretien. Represented by the gold wings logo, Robin's Jean captures Robin's childhood dream of freedom and flight. Robin arrived in Los Angeles in 1996 and by 2005, he decided to incorporate his passions for designing clothes, riding motorcycles and vintage cars with his fascination of Native American Indians to create his own line, Robin's Jean. In summer of 2014, the brand launched their new kids section in their online store.
Robin's Jean is Made in the USA and there are currently five Robin's Jean Flagship store locations; Beverly Hills, CA; Soho, NY; Laguna Beach, CA; Ibiza, Spain, and as of March 2014 - Garden State Plaza in Paramus, New Jersey as well as online at http://www.robinsjean.com
PR Contact: kim(at)robinsjean(dot)com