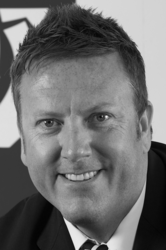 We are at a key stage in our growth where the Sales Director will play a vital part in helping us go to the next level. Ian's particular approach and passion will be central to bringing the message of positive change to life.
London (PRWEB UK) 30 July 2012
AES International has appointed Ian Bentley to the newly-created role of Sales Director. He assumes his role on 1st August, joining the UK's fastest growing financial services organisation on the Sunday Times Virgin Fast Track 100 list.
Bentley brings over 23 years' experience in financial services, leadership and management in the UK and internationally. He joined Allied Dunbar in 1990 where he very quickly established himself as one of the leading Sales Consultants in the Broker Division. After nine years he joined Scottish Widows International based in Dubai, where he was responsible for sales throughout the Middle East and Asia. In 2002 Bentley joined Friends Provident International in Hong Kong where he was responsible for business development throughout the Far East, including Hong Kong, Singapore and China. In 2008 he returned to Dubai with Friends Provident International, where took on the role of Sales Director for the Middle East and Africa.
Bentley comments, 'With my experience working with intermediaries all over the world, my focus will be to drive this business forward by building on the great work that's already been done by the leadership team at AES.'
Profitable new business growth is one of his key focuses. He is also passionate about inspirational leadership, motivation and the on-going personal development of those who work alongside him.
Bentley further explains, 'I intend to focus on building a true value proposition where our advisers can see and benefit from a forward thinking business that can create tangible value whilst focusing on quality holistic financial planning for our clients. We will continue to look for new ways to do business and our people will remain at the very heart of everything we do.'
AES International CEO Sam Instone says, 'We are at a key stage in our growth where the addition of the Sales Director role will play a vital part in helping us go to the next level. Ian's particular approach and the passion he brings to the role will be central to bringing the message of positive change to life.'
Bentley is an accomplished financial services trainer where he brings training sessions to life with his experience, anecdotes and ideas. He has spoken extensively at conferences and seminars around the world.
Away from work he is a keen footballer and enjoys global travel.
About AES International:
AES International operates in several jurisdictions around the world, providing financial planning, wealth management and managed banking services to expatriates living and working in Europe and the Middle East.
Headquartered in London, AES International has become a recognised brand for dynamic wealth managers, offering three distinct propositions for employed advisers, advisers wishing to join a network and appointed representatives. AES is the only international financial services firm to hold such a broad range of local investment and insurance licenses throughout Europe and the Middle East via legitimate branch establishments.
AES International Global PLC consists of the following companies:
AES Financial Services Ltd, which is authorised and regulated by the UK Financial Services Authority (FRN 464494). AES Financial Services Ltd is authorised to provide both investment and insurance advice in all EEA member states via the provisions contained within the Insurance Mediation Directive (IMD) and the Market in Financial Instruments Directive (MiFID);
AES Investment Services Ltd;
AES International SA, a member of ARIF, a self regulatory body recognised by FINMA and the Swiss Federal State; and AES Middle East Insurance Broker LLC – licensed by the Ministry of Economy, United Arab Emirates.