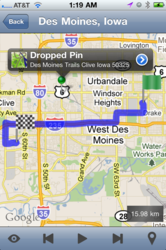 Track, Share, Locate, & Checkin - a single app does it all
West Des Moines, IA (PRWEB) July 28, 2011
iapps24, a company that develops custom mobile applications announces its new tracking app StepTrace for iPhone. StepTrace is now available for download on the iPhone AppStore. StepTrace allows users to track, share, locate, and check-in on online services such as Foursquare, Facebook Places, Gowalla, and Google Places.
Tracking is a new trend among mobile users that pinpoints a friend or family member's exact location. This new application provides a mobile tracking system whereby users record various outdoor activities such as hiking, driving, boating, cycling, motorcycling, and picnicking, which they can play back on their iPhone, iPod, and iPad devices.
Users can share these recorded tracks on Facebook, Google Places, and Twitter, or email them to friends and relatives. StepTrace also allows users to add pin annotations to maps, export maps to Google Places, and then modify them on Google.
StepTrace allows its users to send directions to friends quickly and easily. With just a few taps on the phone screen, friends receive an email from the sender. Opening the link from the email provides directions from the friends current location to the senders location to help users locate and join friends.
Lastly, there is the check-in aspect of the application, which enables users to check-in through Foursquare, Facebook Places, or Gowalla. Users check-in to places nearby or other locations on the map by dropping a push pin annotation. StepTrace saves this in the tracking session being recorded.
Co-founder of iapps24, Jay Namboor, says, "This app makes your iPhone the ultimate tracking device. Track, share, locate, and check-in on your favorite services! A single app does it all! "
Step Trace is compatible with iPhone, iPod, and iPad however it works the best with GPS enabled devices such as iPhone and iPad 3G. Other mobile creations by iapps24 include the photo and video uploading app ProShare. Both of these apps are available on the Apple AppStore. Please visit StepTrace website for more info http://steptrace.me and to see the latest company news and updates visit their website http://iapps24.com, follow them on twitter @iapps24, or connect with them on http://Facebook.com/iapps24.
About iapps24:
Co-Founded in September 2010 by Jay Namboor of Grapnel Mobile Inc., iapps24 is a team of developers experienced in the IT industry and focused on creating custom mobile applications for businesses of all sizes. Much of its experience working with various Fortune 500 companies on multiple projects provides iapps24 with a unique view of the development process. iapps24 is committed to offering exceptional service that is customer oriented, while also supplying a well-documented and clearly developed application.
Contact:
Jay Namboor
6905 Vista Drive
West Des Moines, IA 50266
Support(at)iapps24(dot)com
###