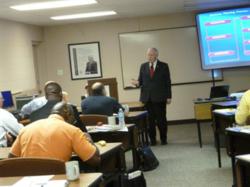 This event took me by surprise and opened me up to a whole new avenue for helping business people solve real solutions," said attendee Nick Royer, RFC
Middletown, OH (PRWEB) September 14, 2012
Many Top of the Table members of the Million Dollar Round Table indicate they are receiving more premium dollars now from policies written on business accounts. Business owners and professional practitioners generally lack a funded transition plan. Furthermore, they borrow from banks to expand and diversify their business without reading all the default provisions and guarantee of their loan agreements. Thus the business and family are not prepared to pay off the loans - causing a disaster between the successor management and the family.
"For three decades there has been very little training of life agents on how to identify these issues, dramatize their significance, analyze the need, and provide a solution with no cash flow impact", says Ed Morrow, Chairman of IARFC. "Eventually there will be organizations that focus on helping the owners of small to medium businesses and entrepreneurs. Why shouldn't that be you and why not now?" he continues.
Morrow encourages advisors to get started. "Once business owners are pleased with your service, they will keep your 'qualified prospect basket' full of names. They are not shy in permitting you to use their name – in fact they will appreciate it." Automatic referral generators eliminate "prospecting pressure."
The Business Owner Consulting Workshop equips financial professionals with the tools, techniques, reports and files to approach, serve and sell insurance and investments. 7 RFC and CFP CE credits may be available. The next workshop will be hosted on October 3rd by the Utah Valley University in Salt Lake City, UT at the Residence Inn at West Broad Street. You can register by contacting the IARFC at 800 532 9060 ext 307.