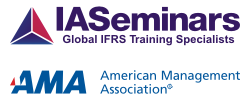 New York and London (PRWEB) April 18, 2012
U.S. companies may need to switch from Generally Accepted Accounting Principles (GAAP) to IFRS when preparing future financial statements, or they could see important changes being made to GAAP as a result of international accounting harmonization. Many international companies with a presence in the United States already use IFRS, which is required or permitted in more than 120 countries around the world.
"By collaborating with IASeminars, American Management Association is able to offer a comprehensive range of training solutions at a time when U.S. companies may need to deal with potentially far-reaching changes to Generally Accepted Accounting Principles," said Robert G. Smith, senior vice president for Marketing and Membership at AMA. "We are delighted to help bring the global experience of IASeminars to the U.S. market while at the same time offering additional professional development opportunities to our clients."
"International accounting harmonization will impact the financial reporting practices of all U.S. entities in the years ahead," said Marc Gardiner, CEO of IASeminars. "We are pleased to be collaborating with American Management Association on this important initiative. By working together, we will be able to offer a broader and deeper range of technical accounting seminars to our mutual clients."
IASeminars topics currently available through American Management Association include:

Major IFRS and US GAAP Differences (2 days)
IFRS Basics (2 days)
IFRS Basics with US GAAP Comparison (3 days)
IFRS Fundamentals (4 days)
IFRS Fundamentals with US GAAP Comparison (5 days)
IFRS Immersion Workshop (8 days)
IFRS Technical Update (2 days)
IFRS for the Minerals and Mining Sector (3 days)
IFRS Disclosure and Presentation Requirements (2 days)
IFRS Business Combinations (M&A) and Consolidations (3 days)
For more information about course schedules and AMA preferential pricing, visit http://www.amanet.org/IFRS.
About AMA
American Management Association (http://www.amanet.org) is a world leader in talent development, advancing the skills of individuals to drive business success. AMA's approach to improving performance combines experiential learning—learning through doing—with opportunities for ongoing professional growth at every step of one's career. AMA supports the goals of individuals and organizations through a complete range of products and services, including classroom and live online seminars, webcasts, webinars, podcasts, corporate and government solutions, business books and research. Organizations worldwide, including the majority of the Fortune 500, turn to AMA as their trusted partner in professional development and draw upon its experience to enhance skills, abilities and knowledge with noticeable results from day one.
About IASeminars
IASeminars (http://www.iaseminars.com) has established itself over 10 years as one of the world's leading independent providers of international accounting seminars. With offices in London & Washington DC, it offers several hundred public courses each year on five continents covering the latest IFRS and US GAAP topics. IASeminars events attract thousands of senior delegates from around the world who are taught by an international faculty of expert instructors in several different languages.