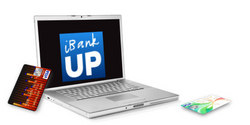 We're looking forward to embracing everyone upset with their bank as well as the young customers that credit card companies have lost the right to serve
New York, NY (PRWEB) February 18, 2010
Determined to offer consumers a break, Plastyc, Inc. is adding services and further lowering costs for iBankUP, the new game in online banking. The latest iBankUP services and savings counteract the consumer-unfriendly tactics of credit card companies that are jacking up fees in response to federal rules taking effect Feb. 22, 2010.
Available immediately, iBankUP users can get loved ones a companion UPside prepaid card using the same account but with separate card numbers and statements. Companion cards are rare in the world of prepaid cards. And while joint credit cards are common, they often use one card number and lump purchases onto one statement. iBankUP makes joint budgeting easier by labeling separately the transactions of the primary account holder and the companion card holder.
The iBankUP companion card is timely for college students and others affected by the Credit Card Accountability Responsibility and Disclosure Act of 2009. Under a provision of the act effective as of Feb. 22, people under 21 will no longer be able to get a credit card without an adult co-signer or proof of ability to pay off the debt. Both conditions have downsides, including adding credit risk to the primary account holder and potentially tying up cash. The new iBankUp companion card makes it easy for families to share a card at no risk to credit scores or available cash.
Also available immediately, iBankUp users can avoid ATM fees by getting up to $60 of cash back at no cost when they do their grocery shopping at stores accepting PIN debit payments. This fee-free offer is in contrast with credit card companies' widely reported practices of adding on new fees that aren't restricted by regulations.
"We're looking forward to embracing everyone upset with their bank as well as the young customers that credit card companies have lost the right to serve," said Plastyc CEO Patrice Peyret.
iBankUP is aimed at people who hate wasting money and who need the convenience of receiving direct deposits, making cash deposits and withdrawals or writing checks without the debt or fees of credit cards or checking accounts. iBankUP and the UPside Visa prepaid card allow users to pay at millions of shops around the world without transaction fees. Tens of thousands of iBankUp and Upside Visa customer have saved more than $16.5M in fees that they would have paid for comparable checking account services.
"I really enjoy using the service. I have my paychecks direct deposited, and I don't have to worry about money being taken out for different fees and charges. It's given me a lot more peace of mind," said iBankUP account holder Melissa W., of Whitacker, PA.
Some of iBankUP's more innovative features include the following:

Sign up at http://www.iBankUP.com in minutes with a valid social security number, regardless of credit record
See an up-to-the-minute balance that accounts for all transactions in real time and accounts for checks when you write them, not when they clear
Use any computer, cell phone or your own Facebook account to make sure you can pay for your purchase
Pay anyone who prefers paper checks with an online checkbook
Receive direct deposits from employers, transfers from family and friends
Load cash into the UPside card at more than 60,000 retailers nationwide
About Plastyc, Inc.
Plastyc's online banking and prepaid card services are the new game in town for people who love innovation and hate wasting money on checking account, credit card and check cashing fees. Thousands of new customers each week save million of dollars in fees by using the FDIC-backed banking services delivered through Plastyc's websites. Plastyc's principals are veterans of the consumer and payment industries, with decades of experience at companies such as GemAlto, Oberthur, Unilever, Thomson/RCA, Sun Microsystems and Mobile365. Plastyc Inc. is privately held with headquarters in New York City.
###