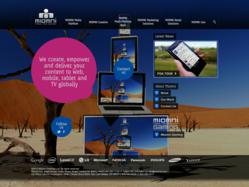 London, United Kingdon (PRWEB UK) 23 August 2012
Join Miomni at IBC 2012 Connected World Hall 14 Stand 242. Miomni is a digital platform delivering user Interface, high quality video content, Interactive applications and e-commerce, to multiple platforms with full advertising capabilities. Miomni uses a proprietary content & asset management system. Incorporating a single integrated database for "over-the-top" global digital video delivery. Miomni also has the advantage of in-house creative services for advanced multi-platform User Interface (UI) design and User Experience (UX) navigation solutions, covering all viewing experiences.
"lean back" (10ft – Connected TV with remote)
"lean forward" (2ft - PC with mouse and keyboard)
"hand held" (1ft - smartphone or tablet)
"sit forward and interact" (the Multi Screen Experience)
Miomni have worked with major Broadcasters, Film studios, Sporting brands and Gaming organisations to provide cutting edge digital solutions on multiple platforms and devices on a Global scale.
Miomni have long standing Strategic Partnerships with all the major Platform Manufacturers as well as operating System providers and as such have been able to create a number of unique and compelling solutions.
The IBC Connected World, in association with BPL Broadcast Ltd and IT Europa, reflects the explosive change sweeping the industry driven by internet connected devices both in and out of the home. Established business strategies are being up-ended by web connected content consumption devices that are transforming the viewer from passive receptor to active selector of media.
IBC has created a dedicated Hall to showcase these themes and the very latest in over-the-top video, IPTV and mobile TV. Attendees flock to the IBC Connected World eager to meet application developers, content providers and technology companies active in the rapidly expanding online video scene to explore the impact of our increasingly connected world on the creation, management and delivery of content everywhere.
Show Dates and Location
Conference: September 6 – 11
Exhibits: September 7 – 11
Location: Amsterdam , RAI Conference Center
Exhibit Hours
Friday, 7 September 10:30 a.m. – 6:00 p.m.
Saturday, 8 September 9:30 a.m. – 6:00 p.m.
Sunday, 9 September 9:30 a.m. – 6:00 p.m.
Monday, 10 September 9:30 a.m. – 6:00 p.m.
Tuesday, 11 September 9:30 a.m. – 4:00 p.m.
For further information about Miomni Holdings Ltd, please contact:
Head Office: Angel House, Angel Mews London N1 9HH - Tel: +44 (0) 207 837 1116
US Office: Miomni Corporation, 800 West El Camino Real, Suite 180, Mountain View, CA 94040
Tel: +1 (650) 903 2269
Email: info(at)miomni(dot)com
Web: http://www.miomni.com
Note to Editors
With offices in London and North America and over 12 years' experience in Digital Content Delivery, Miomni provides a multi-platform digital media solution delivering user interface, high-quality video content, interactive applications and e-commerce, to multiple platforms with full advertising capabilities.