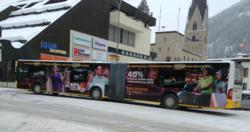 India Adda is something I am truly passionate about. It truly feels like a job well done when I see it engaging in substantive conversations from communities, participants, different streams from all over the world." adds Ms Aparna Dutt Sharma, CEO, IBEF
New Delhi, India (PRWEB) January 23, 2013
It's World Economic Forum (WEF) time again for the secluded town of Davos, which hosts the Annual Meet of WEF in January each year. Comfortably nestled between the snow-clad mountains, this little village comes to life during the week of the WEF meet when the game changers, media and think-tanks from across the world, attending the meet, come and station themselves in Davos for the week. With the business turning brisk, prices spiral upwards as business establishments seek a handsome return from this once in a year event.
India Adda, set up by India Brand Equity Foundation (http://www.ibef.org) defining the Indian presence, is noteworthy in its grandeur - both from the statement it makes and from the global leaders expected to visit and make an appearance. Already, the India Adda has witnessed inquiries and requests from international media and other interested groups for conducting their media sessions, and on the events to take place at the Adda. Also, a special mention on the evolution of the India Adda as locals seeing it every year find it more vibrant, more colourful, and more powerful than the last year.
Mr Anand Sharma, Minister of Commerce, Industry and Textiles, Government of India, as part of his WEF schedule, can be seen at the India Adda engaging in discussions and meetings with global business and decision makers from across the globe.
"Over the year", the India Adda has begun to get acknowledged as a unique IBEF initiative, which has evolved into as it had promised – a rendezvous hub and an open forum where conversations on India Adda embrace and invite the global communities present at Davos. In fact, we would like to believe that the IBEF nation branding campaigns have been a trendsetter in Davos inspiring numerous and similar nation branding initiatives by other countries, "says Ms Aparna Dutt Sharma, CEO IBEF"
As we prepare this report, heavy work is underway to conclude the finishing touches to the India Adda for the Annual Meet of the World Economic Forum which kicks off today, 23rd January 2013 – Wednesday. From powerful Indian economy messages to the Made in India products for the stream of guests expected to visit the Adda, every minute detail is scrutinised to ensure everything is at its best.
"India Adda is something I am truly passionate about. It truly feels like a job well done when I see it engaging in substantive conversations from communities, participants, different streams from all over the world." adds Ms Aparna Dutt Sharma, CEO, IBEF.
About India Brand Equity Foundation (IBEF)
Web: http://www.ibef.org
India Brand Equity Foundation (IBEF) is a Trust established by the Ministry of Commerce. IBEF's primary objective is to promote and create international awareness of the Made in India label in markets overseas and to facilitate the dissemination of knowledge of Indian products and services. Towards this objective, IBEF works closely with stakeholders across government and industry.
For the complete exclusive IBEF interview, including views on the Davos 2013 brand campaign theme, of Mr Anand Sharma, Minister for Commerce, Industry and Textiles, Government of India, visit: http://www.ibef.org
To learn more about the initiatives and developments taking place at the IBEF India Adda at Davos, visit: http://www.india-at-davos.ibef.org/
For any media related queries, please reach out to Darpan Sachdeva: on email at darpan(dot)sachdeva(at)ibef(dot)org, or on phone at: +91-124-4499612.