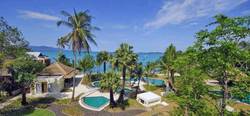 Patumwan, Bangkok (PRWEB) December 10, 2008
Ibis, the Accor group's worldwide economy hotel brand, opened its sixth Ibis hotel in Thailand in October 2008.
The first international three-star hotel in Samui's Bophut Beach, the beachfront Hotel Ibis Bophut Samui offers great value accommodation in a prime location just a short walk from the boat pier, Fisherman's village and monkey theatre. Additionally, the hotel is conveniently positioned just a 10 minute drive from Samui International Airport.
As well as overlooking the 2km-long white sandy Bophut Beach, Hotel Ibis Bophut Samui features great leisure facilities, including massage and a swimming pool, which complement the high standard of comfort offered by all Ibis hotels.
Situated on the North side of Samui Island - Thailand's third-largest island - Bophut Beach is located in the Southern province of Surat Thani. Easily accessible by air and by the various ferries departing from the area, Samui is recognised as an international tourist paradise in South East Asia, and known for its picture perfect beaches, blue seas, lush green vegetation and friendly people.
Ideal for honeymooners, holidaying couples, families or friends, Hotel Ibis Bophut Samui is the economical choice in quality Samui accommodation, featuring all the services and facilities the Ibis brand is famous for at a fantastic price. Each of the 260 rooms features modern design and a well-designed ensuite bathroom, and is fully-equipped with flat screen TV and wireless and broadband Internet connection. As in all Ibis hotels worldwide, guests visiting Hotel Ibis Bophut Samui can enjoy breakfast at any time between 4am and noon and benefit from 24 hour hot and cold snack and bar service.
Another of the hotel's features is Taste restaurant - one of Ibis' 20 global restaurant concepts - which offers distinctive Thai cuisine in a modern Tapas style. Additionally, the Lobby Bar provides a relaxed environment in which to enjoy a cool drink or a quick meal.
For guests travelling on business, Hotel Ibis Bophut Samui also features a meeting room accommodating up to 30 people.
Hotel Ibis Bophut Samui is currently offering Standard Room rates from THB1245 a night, including taxes. Bookings can be made via the Ibis website.
Established in 1974, Ibis is the European leader and one of the first economy hotels chain in the world, with nearly 90,000 rooms and 790 hotels in 39 countries, including six in Thailand.
The quality of the Ibis standard has been recognised by the International Organization for Standardization certification ISO 9001 since 1997. Ibis is also the world's first hotel chain to demonstrate its environmental commitment through securing the ISO 14001 certification, which has already been awarded to nearly one third of its hotels.
More information on the Ibis brand is available at http://www.ibishotel.com.
###