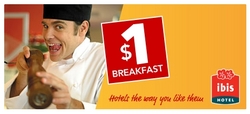 Sydney, NSW (PRWEB) April 2, 2009
Ibis hotels all around Australia are offering guests the opportunity to combine a low rate with an affordable breakfast. For three months only, guests who book online to stay at an Ibis hotel in Australia will pay only an additional AU$1 per person for a full buffet breakfast enjoyed within the hotel.
This offer makes for even better value at Australia's 14 Ibis hotels, and is available between 1 April and 30 June 2009.
Ibis hotels around the country are also offering a special advance-purchase rate of AU$99 per night, available for online bookings made 30 days before staying. This special offer is for stays in May and June 2009 only, and is available per room/per night for up to two people.
These Ibis special offers make it easier than ever for guests to spend their money on the things that make a holiday truly memorable, such as exploring a region's unique offerings, tourist attractions, shopping, dining and entertainment options.
The 14 Ibis hotels in Australia offer affordable accommodation in key cities such as Sydney, Melbourne, Perth, Townsville, Brisbane, Newcastle and Wollongong. The newest hotel - Ibis Sydney King Street Wharf - opened late last year and provides a great base when exploring Sydney's most popular tourist attractions.
Ibis, the worldwide economy hotel brand of the Accor group, has changed the face of economy accommodation in Australia, providing modern, centrally-located hotels with value for money at their core. Ibis took the time to find out what their customers really wanted and as a result have done away with the unnecessary luxuries many travellers don't want to pay for. By removing such 'extras' as bathrobes, porters and concierge services, customers are able to enjoy significant savings.
Of course there has been no compromise on the essentials, such as a comfortable bed, a warm welcome, efficient service and quality food and beverages. And every one of these Ibis properties is well located so guests can enjoy the best the city has to offer.
Bookings can be made at http://www.ibishotel.com
Ibis, the worldwide economy hotels brand of the Accor group, was established in 1974,and features more than 90,000 rooms in 800 hotels in 40 countries, including 14 in Australia.
Media contact: Peter Hook ph (02) 9280 9860
###