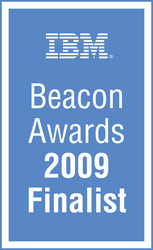 Particularly in the current economic environment, our clients are focusing on ways to get the most value from their existing IT investments
San Antonio, TX (Vocus) July 8, 2009
Sirius Computer Solutions, a national technology solutions provider, was named finalist for "Outstanding Information Infrastructure Solution" in the 2009 IBM Beacon Awards competition. Sirius was recognized for the IBM Storage solution implemented on behalf of client Attorneys' Title Insurance Fund, Inc. (The Fund).
"Particularly in the current economic environment, our clients are focusing on ways to get the most value from their existing IT investments," said Joe Mertens, President, Sirius Computer Solutions. "That's precisely why storage is one of the categories that continues to show the most strength in our portfolio. And Sirius is supporting our clients with IBM Storage solutions that provide superior value, performance and reliability."
Sirius' success is due to its deep bench of Infrastructure Consulting, Software Consulting and Project Management services personnel, who design, configure and implement complete IT solutions based on IBM servers, storage and software. Sirius sales and technical professionals hold more than 3,100 certifications, ensuring that clients have an extraordinary pool of qualified talent to solve even the most technical challenges.
According to Fred Haber, Vendor Manager at The Fund, that combination of industry-best product offerings supported by exceptional service is the basis of the successful relationship between The Fund and Sirius. "A lot of the purchase was a result of Sirius' involvement and their calm demeanor in the negotiations. Sirius is the sixth reseller that's been in here in the last three years. They've actually brought some serious stability to the relationship, and that weighed heavily in our final decision to stay with IBM."
The solution that The Fund implemented with Sirius' help included the latest-generation IBM DS8300 Disk Storage System with 80TB capacity; dual IBM SAN directors and an IBM SAN Volume Controller (SVC) system; and one IBM N series N7700 network-attached storage (NAS) system. Supporting services included complete project planning, configuration and installation of all new hardware, migration of data to the new systems, and even packing and shipping the retired hardware back to IBM.
The IBM Beacon Awards recognize excellence in the development and delivery of solutions and services that Business Partners deliver to clients around the world. More than 340 nominations worldwide were judged by a team of leading industry journalists, analysts and IBM executives, who selected winners and finalists in the 22 award categories.
For more information about the IBM Beacon Awards, including descriptions of the winning entries and details about the finalists, please visit http://www-1.ibm.com/partnerworld/pwhome.nsf/weblook/2009_awards.html.
To learn more about IBM PartnerWorld, a comprehensive program that offers marketing and sales resources, training, certification and technical support to help create new revenue and market opportunities for IBM Business Partners, visit http://www.ibm.com/partnerworld.
About Attorneys' Title Insurance Fund, Inc.: The Fund supports the needs and promotes the success of 6,000 member attorneys' real estate practices by providing valuable, relevant, and timely information, as well as innovative products and services that allow attorneys to conduct transactions electronically, easily, and efficiently. The Fund's strong technology base and educational support create an environment that enhances its members' knowledge and sharpens their competitive edge, which is why The Fund is the largest single title insurance underwriter and title information provider in the state of Florida.
About Sirius: Sirius is a national IT solution provider and IBM Premier Business Partner that is dedicated to helping clients implement advanced infrastructure solutions that provide a competitive advantage and a positive return on their investment. Sirius was also recognized as the worldwide IBM Beacon Awards 2009 Winner for Technical Excellence: Overall Technical Vitality. For more information about Sirius, visit http://www.siriuscom.com.
Contact Information: Susan Griffin, Director of Corporate Communications, Sirius Computer Solutions
Phone: 503-430-6311
###