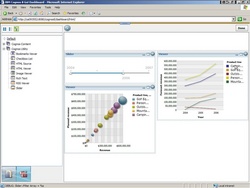 These new enhancements to our Go! Portfolio provide business-driven performance information to help each area of the organization strategically manage the information that is most pertinent to them
BURLINGTON, Mass. (PRWEB) October 2, 2008
A recent TDWI survey found that the percentage of active BI users who use a BI tool at least once a week in organizations has increased from 18% in 2005 to 24% in 2008. Respondents cited many factors that accelerate BI usage, including delivering data through a dashboard (46%), report interactivity and self-service (44%), among other things*.
To continue to address these needs, Cognos is delivering more flexible, consumer-oriented ways for users to stay connected to the business with personalized access to trusted information through familiar dashboard, mobile device, Web browser, spreadsheet, word processor or presentation software interfaces.
Today, Cognos is introducing a new dashboard capability called IBM Cognos 8 Go! Dashboard, new location-aware capabilities for IBM Cognos 8 Go! Mobile and new highly targeted search capabilities for structured and unstructured data within IBM Cognos 8 Go! Search. These capabilities give IT the opportunity to securely extend their performance management framework to help more business users quickly find the information they need to make better decisions, contribute to information that others depend on and take action to better manage performance.
IBM Cognos 8 Go! Dashboard dynamically delivers rich Flash-based graphics for business users or executives to quickly create personalized dashboards that reflect the trusted, consistent performance information delivered from IBM Cognos 8 BI or other enterprise sources. External widgets such as RSS feeds or relevant pieces of pre-built reports, scorecards or metrics can also be incorporated directly into the dashboard so business users can obtain a complete view of the information that matters most to them.
"We rely on the bird's-eye view of business information delivered through our dashboards and scorecards to increase operational efficiencies in key areas," said Mark Lack, Manager, Planning and Financial Analysis, Mueller Inc. "The new interactive viewer within IBM Cognos 8 Go! Dashboard is super cool. It will give business users the ability to quickly drag and drop, re-sort and rearrange slick graphical content in compliance with existing IT policies and infrastructure. The result is a custom, manageable view of business information built on trusted BI content without the need for the IT department to spend valuable time building individual dashboard views for every imaginable business scenario."
New advances in IBM Cognos 8 Go! Mobile let mobile business users and executives more easily view and interact with the same reports they would find on their desktop via their mobile device for efficient decision-making regardless of location. Unlike competing solutions, the product delivers new location-based business intelligence capabilities which use GPS information on the user's BlackBerry, Symbian or Windows Mobile device to create reports that automatically adjust based on the location of the user.
The software also supports all types of business reports, including:
Ad-hoc, prompted reports run by the business user directly from the mobile device; Scheduled reports delivered to the device based on a schedule; "Bursted" reports, which are valuable in large-scale production-level types of business reporting, such as Web invoicing. With bursting, large reports are executed once and then divided into segments for efficient distribution to intended recipients. The data is read only once throughout the process which provides associated network and processing efficiencies; Cascading prompts, which dynamically link one report prompt to another with related information such as countries, territories and cities. Cognos 8 Go! Search Advances Convergence of BI and Search
IBM's recent CEO and CIO surveys have found unstructured corporate information such as user files, customer comments, medical images, Web and rich media content to be growing at 63%. The explosive growth of this type of business information has pushed the convergence of the BI and Search categories. It has created demand for new BI search capabilities to provide quick and easy access to both ranked and relevant BI content and unstructured information.
Newly updated, IBM Cognos 8 Go! Search v4 lets any business user extend the decision-making capabilities of IBM Cognos 8 BI by securely accessing and dynamically creating BI content using simple key-word search criteria. The software works with popular enterprise search applications such as IBM OmniFind Enterprise Edition, Google, Yahoo and Autonomy so users can see structured, trusted BI content and unstructured data such as Word documents and PDF's in the same view within a familiar interface.
Users can search all fully-indexed metadata as well as titles and descriptions within a report. Search-assisted authoring and exploration gives them options to refine queries or analyze data cubes based on search terms. These capabilities speed access to the most relevant business information regardless of naming similarities between reports, helps business users quickly refine queries as required and frees IT from constantly re-creating commonly used reports. This leaves IT with more time for strategic business initiatives.
The software is completely integrated with the web-based administration and security parameters set by IT administrators for IBM Cognos 8 BI. This integration provides a centralized, efficient approach to administration and security and effectively addresses two common areas of concern for resource-constrained IT departments, who want to provide more autonomy to business users, but need a single administration point and assurance that corporate authentication policies will be maintained.
"These new enhancements to our Go! Portfolio provide business-driven performance information to help each area of the organization strategically manage the information that is most pertinent to them," said Leah MacMillan, vice president, product marketing, Cognos, an IBM Company. "Both the business and IT gain more autonomy whether employees are in the office searching, monitoring and analyzing business outcomes or on the road looking for new business updates or geographically relevant information."
The IBM Cognos 8 Go! Portfolio of software is a key component of IBM's Information Agenda, a new approach consisting of industry-specific software and consulting services geared to helping customers use information as a strategic asset across their businesses.
Availability:
IBM Cognos 8 Go! Dashboard, IBM Cognos 8 Go! Mobile v4 and IBM Cognos 8 Go! Search v4 will be available in Q4, 2008 direct from Cognos or its network of resellers worldwide.
About Cognos, an IBM company:
Cognos, an IBM company, is the world leader in business intelligence and performance management solutions. It provides world-class enterprise planning and BI software and services to help companies plan, understand and manage financial and operational performance. Cognos was acquired by IBM in January 2008. For more information, visit http://www.ibm.com/software/data/ and http://www.cognos.com.