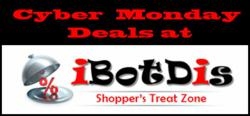 New York, NY (PRWEB) November 15, 2012
Black Friday - as the tradition goes is a big day for shopping in the U.S. It falls just after the Thanksgiving Day that starts off the holiday season with the spirit of Christmas in the air. Numerous shoppers are found in queues outside giant stores like Best Buy, Circuit City and Macys to name a few - a night before, to be the first one to grab the highly discounted products on sale, the moment the store opens for business.
Black Friday practically is meant for shoppers who actually prefer to visit a physical store than shopping online. But for those who prefer shopping online comfortably avoiding the crazy crowds, Cyber Monday is the online equivalent. Online shoppers can take equal benefit of the shopping season and deals on Cyber Monday. Ibotdis.com provides shoppers with Best Buy promo code applicable on huge selection of products including but not limited to latest cameras, laptops, LED televisions and more. These are the deals that a Gadget Fan looks forward to and waits for eagerly. Apart from Best Buy, Ibotdis.com also has numerous Buy.com Coupons which can be used on many computer and electronics products like gaming consoles and top end mobiles which are only available online through Buy.com website.
"Ibotdis.com offers coupon codes and deals from reputed online stores - Best Buy and Buy.com on Cyber Monday for all Gadget and Electronics Fans." quotes Victoria Wong, ibotdis.com Content Manager.
Cyber Monday shopping means that a customer does not have to be a part of the Black Friday weekend crowd and still get the terrific bargains with coupon codes. They can simply relax through the weekend and shop online on Monday and enjoy savings up to 40% on electronics, computers and even on apparels, accessories and household products. Coupons are always available for online shoppers; just visit http://www.ibotdis.com/ for more details.