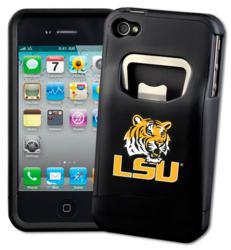 The iBottleopener is the perfect accessory for tailgating!
Santa Barbara California (PRWEB) October 25, 2011
Lightbulb Moments, a California-based company has introduced a college version of its Popular iBottleopener iPhone case, now available on the companies website.
The Company made headlines in 2010 when it released the worlds first iPhone case with an integrated bottle opener, delighting apple enthusiasts around the world.
Twenty-two Officially Licensed Major Colleges are available with colorful school logos. Thirty additional schools are in the process of being officially licensed.
The College iBottleopener features a Soft-touch, rubberized shell and a two part slider design. It comes packaged in a gift box with a money back gaurentee. The case fits all carriers of the iPhone 4/4s.
Zack Cram, Marketing Manager/Inventor for Lightbulb Moments said "We've had an overwhelming response to the College iBottleopener as a Christmas Stocking Stuffer."
The College iBottleoper is available for 24.95 at ibottleopener.com
###