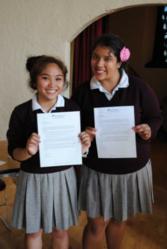 "We are very proud of our seniors [at ICA]. I am in constant awe...and look forward to seeing all that they accomplish..." - Director of Guidance.
San Francisco, CA (PRWEB) October 28, 2011
Immaculate Conception Academy (ICA Cristo Rey), a Catholic secondary school in San Francisco, had 17 colleges visit the school this month for On-Site Admissions Day. The schools came on site to announce application acceptances to the students who applied to their schools.
ICA has 49 graduating seniors and they have received 94 acceptances overall, along with $1.9M in college scholarships. Particular schools of note in attendance were Dominican University of California, Whittier College, Notre Dame de Namur, Menlo College, CSU East Bay, and Holy Names University. USF, a Cristo Rey partner, was also in attendance. The application process is still open and acceptances will continue to be received throughout the school year.
On-Site Admissions Day is an annual event at ICA where schools announce in person application acceptances and scholarships given. It allows students to get a jump start on the application process, enabling them to hear from choice schools before making final decisions on what colleges to attend.
Schools that participate waive application fees for the students who apply. Immaculate Conception Academy serves students who come from families of limited financial means. The waived application fees and scholarships make it possible for students to pursue higher education at schools that would otherwise be out of reach.
Francesca Mallegni, Director of Guidance at ICA, said, "We are very proud of our seniors. I am in constant awe of the seniors and look forward to seeing all that they accomplish in their lives." To learn more about ICA or to donate please contact Katie Mayberry at (415) 824 – 2052 x 40 or kmayberry@icacademy.org.
About ICA
Immaculate Conception Academy, a Catholic secondary school, prepares young women for college and a life of faith, integrity and service. As a Cristo Rey school in the Dominican tradition, they are committed to providing both an excellent education and meaningful corporate work study experiences to students of limited financial resources. Learn more about ICA at http://www.icacademy.org. Learn more about Cristo Rey at http://www.cristoreynetwork.org.
###