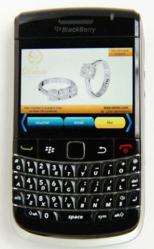 With iCandi, our customers will see our jewelry in a rich mobile phone media format that gives an excellent representation of our beautiful collection....
Lagos, Nigeria (PRWEB) December 05, 2011
iCandirewards is Nigeria's premier rich media mobile advertising platform focused on delivering real value and content to its users. The application offers the ability to explore and experience products with exciting visuals that is not possible through other mobile media ads. Viewers of the ad will be able to view the Deinte advertising campaign and instantly qualify for a 5% discount at Deinte's Silverbird Galleria Victoria Island Lagos store. Users also get the opportunity to enter into Deinte's Christmas Draw to win several gift prizes of up to N20,000 Naira each!
"With iCandi, we want our customers to see our jewelry in a vibrant mobile media format that gives an excellent representation of our beautiful collections," said Tinuke Erogbogbo-Oyeniyi, Chief Operating Officer at Deinte. "Partnering with iCandi gives us a unique mobile presence and represents an innovative way for us to interact with our customers; its coupon option also ensures our customers are rewarded for their loyalty."
"Changing the mobile advertising landscape in Nigeria is our key objective. In Nigeria today, mobile technology has a much wider reach than any other advertising medium. The personalization iCandi offers ensures users only see what is relevant to them, it also rewards them for being part of the iCandi community," said Nnamdi Agbakwu Co-Founder of Specta Consulting. "We look forward to collaborating with Deinte to bring a new generation of engaging mobile ads to the Nigerian market."
About Specta Consulting & iCandi:
iCandi is mobile application from Specta Consulting that delivers targeted content to mobile users via the device screen.It offers the ultimate solution for brands to stay in touch with or reach existing and new consumers through their mobile devices. For mobile phone users, iCandi is an excellent source for key features users love on their devices like wallpapers, news, sports updates, trivia, etc.
Specta Consulting is a global consulting firm that specializes in identifying key business solutions and technologies for emerging markets. One of Specta Consulting's offerings is a mobile content and advertising solution delivered through the iCandi platform.
To experience iCandi, download it from the Blackberry App store or from http://www.icandirewards.mobi.
# # #