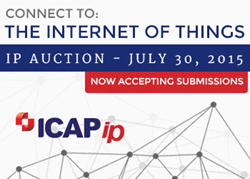 This brilliant technology translates the world of signal we've built around us into usable power.
NEW YORK, NY (PRWEB) July 07, 2015
ICAP Patent Brokerage announces for sale patents disclosing a system for harvesting ambient radio frequency (RF) or electromagnetic (EM) energy for supplying power to electronic devices, sensors and sensor networks, available from inventor Marc H. Cohen. This portfolio is offered as part of the Internet of Things IP Auction, with a bidding deadline of July 30th, 2015.
"This brilliant technology translates the world of signal we've built around us into usable power," says Dean Becker, CEO of ICAP Patent Brokerage.
Key Characteristics & Benefits
These patents disclose a system and device for harvesting various frequencies and polarizations of ambient radio frequency (RF) electromagnetic (EM) energy for making a passive sensor (tag) into an autonomous passive sensor (tag), adapted to collect and store data with time-stamping and some primitive computation when necessary, even when an interrogating radio frequency identification (RFID) reader is not present (not transmitting). A specific source of ambient RF EM energy may include wireless fidelity (WiFi) and/or cellular telephone base stations and other microwave sources. The system and device may also allow for the recharging of energy storage units in active and battery assisted passive (BAP) devices. The system could be a "smart building" that uses passive sensors with RF EM energy harvesting capability to sense environmental variables, security breaches, as well as information from "smart appliances" that can be used for a variety of controls and can be accessed locally or remotely over the Internet or cellular networks.
Forward citing companies include Boeing, Intellectual Ventures, GE, IBM, Apple, Tyco, Ricoh, Trilliant, Broadcom, Primax, and Voxx.
See the technical description of the ambient energy harvesting IP sales offering.
To learn more about the intellectual property available for sale in this portfolio:
Contact Michelle Tyler of ICAP Patent Brokerage at (650) 741-4117 or via email at michelle(at)icapip(dot)com.
If you have a patent portfolio for sale, visit our website to make a patent portfolio submission for an upcoming sealed bid event.
Follow us on Twitter (@ICAP_IP) and join our LinkedIn group.
About ICAP Patent Brokerage
ICAP Patent Brokerage is the world's largest intellectual property brokerage and patent auction firm, leveraging the talents of experienced patent brokers to match buyers and sellers for the sale of patents and other intellectual property assets. With multiple transaction platforms and unparalleled industry knowledge, including experience with trademarks, brands, intellectual property licensing, and UCC sales, ICAP Patent Brokerage is the global leader in the transaction of intellectual property.
Media Contact
Sarah Saites
(312) 327-4437
Sarah(at)icapip(dot)com