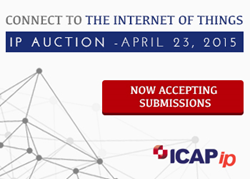 This is a vast improvement over traditional systems which require users to input their location.
New York, NY (PRWEB) February 17, 2015
ICAP Patent Brokerage announces for sale patents disclosing a device capable of providing custom audio tours which automatically use location information as cues. This portfolio is available from inventor David J. Cutitta, and offered as part of the Internet of Things IP Auction, with a bidding deadline of April 23rd, 2015.
"This is a vast improvement over traditional systems which require users to input their location," says Dean Becker, CEO of ICAP Patent Brokerage.
Key Characteristics & Benefits
Traditional audio tour devices are location insensitive, requiring users manually enter locations as they progress. This technology overcomes those limitations by providing customized audio tours automatically determined by the user's location. The tours can be further customized based on a user's particular interests. For example, the user may select for automatic playback one or more specific topics of interest such as history, architecture, pop-culture, trivia, archaeology, or the natural sciences, with each topic providing information corresponding to the specific location of the user. This is an important portfolio for companies involved in telecom services, smartphone manufacturers, portable audio and/or video players, and tourist attraction providers.
Sample forward citing companies include Verizon, General Motors, and AT&T.
See the technical description of the customized audio tours IP sales offering.
For more information:
Contact Michelle Tyler of ICAP Patent Brokerage at (650) 741-4117 or via email at michelle(at)icapip(dot)com.
If you would like to sell or auction a patent portfolio, visit our website to make a patent portfolio submission:
http://icappatentbrokerage.com/auction/submitip/
Follow us on Twitter (@ICAP_IP) and join our LinkedIn group.
About ICAP Patent Brokerage
ICAP Patent Brokerage is the world's largest intellectual property brokerage and patent auction firm, leveraging the talents of experienced patent brokers to match buyers and sellers for the sale of patents and other intellectual property assets. With multiple transaction platforms and unparalleled industry knowledge, including experience with trademarks, brands, intellectual property licensing, and UCC sales, ICAP Patent Brokerage is the global leader in the transaction of intellectual property.
Media Contact
Sarah Saites
(312) 327-4437
Sarah(at)icapip(dot)com