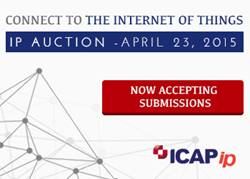 This is the new generation of motion capture! Our technology widens the scope of what is possible to perform and the buyers' imagination has to catch up with this.
NEW YORK, NY (PRWEB) February 05, 2015
ICAP Patent Brokerage announces for sale patents disclosing a gesture recognition system that works in real-time, without the need for complex computing resources. This portfolio is available from Motuveri AB, of Sweden, and offered as part of the Internet of Things IP Auction, with a bidding deadline of April 23rd, 2015.
"We are excited to be offering this innovative gesture recognition IP package to our global base of buyers. Interpreting human gestures with speed and precision is integral to gesture control platforms such as major operating systems, gaming, the automated home, sports training, or navigation systems; serving as an ideal solution in countless industries," says Dean Becker, CEO of ICAP Patent Brokerage.
"This is the new generation of motion capture! Our technology widens the scope of what is possible to perform and the buyers' imagination has to catch up with this," says Hans Arvid Mattsson, CEO of Motuveri AB.
Key Characteristics & Benefits
The rapid development of motion analysis systems and computer-controlled devices has introduced new ways of interacting with computers. Using the concept of gesture recognition, it is possible to point a finger at a computer screen so the cursor will move accordingly. Traditional gesture recognition systems scan the whole body, requiring complex analysis and a high degree of computing power.
The system for sale utilizes a strategic 2-set principle of unique ID markers. A low number of marker IDs are used, thus reducing the computing power required. The first set of unique ID markers creates a mobile virtual desktop for multi-users where intuitive body-language is used as a means for identification and positioning of the user. The second set creates the means for user control where finger movements combining unique ID markers offer highly defined commands, going deep into precise outcomes. This technology is a generic system to be compared to the electrical motor. It is fully scalable - being as simple or complex in architecture as any application needs. It has numerous potential applications including gaming, intuitive smart home devices, music apps, virtual 3-d input peripherals (mice & keyboards), sports training and rehabilitation (visualization and feedback), movement control of music and lighting for theatrical and concert performances, security access control systems, and virtual control of overhead cranes, along with movement restrictions for safety purposes.
Forward citing companies include Intellectual Ventures, IBM, Yamaha, Google, Northrop Grumman, Qualcomm, Sony, and Smart Technologies.
See the technical description of the gesture recognition system IP sales offering.
To learn more about the intellectual property available for sale in this portfolio:
Contact Michelle Tyler of ICAP Patent Brokerage at (650) 741-4117 or via email at michelle(at)icapip(dot)com.
If you have a patent portfolio for sale, visit our website to make a patent portfolio submission for an upcoming sealed bid event.
Follow us on Twitter (@ICAP_IP) and join our LinkedIn group.
About ICAP Patent Brokerage
ICAP Patent Brokerage is the world's largest intellectual property brokerage and patent auction firm, leveraging the talents of experienced patent brokers to match buyers and sellers for the sale of patents and other intellectual property assets. With multiple transaction platforms and unparalleled industry knowledge, including experience with trademarks, brands, intellectual property licensing, and UCC sales, ICAP Patent Brokerage is the global leader in the transaction of intellectual property.
Media Contact
Sarah Saites
(312) 327-4437
Sarah(at)icapip(dot)com