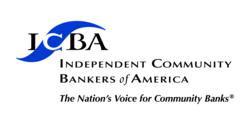 We must create jobs to bolster the economic recovery, and the Communities First Act is one of the tools lawmakers can use to establish economic stability and prosperity—the one thing that America needs most right now
Washington, D.C. (PRWEB) September 22, 2011
The Independent Community Bankers of America (ICBA) today fully backed the Senate introduction of The Communities First Act, S. 1600, which was advanced by Sen. Jerry Moran (R-Kan.). The Communities First Act, which has an ICBA-endorsed companion bill in the House, H.R. 1697, advances much-needed regulatory and tax relief and is a top priority for ICBA and the nation's community banking sector. It will help create jobs and bolster the economic recovery by giving community banks the tools they need to continue to invest in their communities and support small businesses.
"We must create jobs to bolster the economic recovery, and the Communities First Act is one of the tools lawmakers can use to establish economic stability and prosperity—the one thing that America needs most right now," said Sal Marranca, ICBA chairman and president and CEO of Cattaraugus County Bank, Little Valley, N.Y. "The Communities First Act will allow community banks to continue to lend to small businesses, which employ thousands of local residents in cities and towns throughout America. We thank Sen. Moran for his leadership in introducing this vital legislation and Sens. Roy Blunt (R-Mo.) and John Barrasso (R-Wyo.) for cosponsoring this Senate measure. ICBA will work diligently to ensure its passage."
Among its provisions, the Communities First Act will:

address burdensome and expensive over-regulation,
encourage greater saving, investing and lending,
mandate a study of counterproductive, procyclical policies to allow community banks to amortize losses on commercial real estate loans and other real estate owned over 10 years for regulatory capital purposes,
increase the threshold number of bank shareholders that trigger SEC registration from 500 to 2,000,
create a more reasonable threshold that would allow the Financial Stability Oversight Council to veto Consumer Financial Protection Bureau rules that are inconsistent with the safe and sound operation of financial institutions,
amend the Wall Street Reform Act to restore bank reliance on external credit ratings,
extend the five-year net-operating-loss carryback provision to better reflect business cycles and free up cash flow when it is most needed, and
create a limited tax credit for community banks and advance Subchapter S tax reforms to support greater capital formation and improve the flow of credit.
"As the association that represents America's community banks, ICBA is fiercely backing this legislation because it benefits consumers, small businesses, local governments and others who depend on community banks for financial support," said Camden R. Fine, ICBA president and CEO. "The tax relief provided by CFA will enable community banks to continue to address their communities' needs during these tumultuous times."
For more information on this important issue or to speak with an ICBA staff expert, please contact Aleis Stokes at 202-821-4457. For more information, visit http://www.icba.org.
About ICBA
The Independent Community Bankers of America, the nation's voice for community banks, represents nearly 5,000 community banks of all sizes and charter types throughout the United States and is dedicated exclusively to representing the interests of the community banking industry and the communities and customers we serve. For more information, visit http://www.icba.org.
# # #