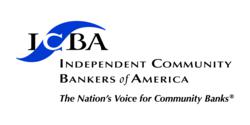 Rather than a top-down program, the Communities First Act was crafted from the bottom up with input from community bankers who know what will work on Main Street
Washington, D.C. (PRWEB) November 16, 2011
Sal Marranca, Independent Community Bankers of America (ICBA) chairman and president and CEO of Cattaraugus County Bank, Little Valley, N.Y., today urged the House Financial Services Subcommittees on Financial Institutions and Capital Markets to support the ICBA-backed Communities First Act (H.R. 1697), which would provide carefully crafted regulatory and tax relief that would allow community banks to do what they do best—lend locally in their communities and help boost the economy.
"Rather than a top-down program, the Communities First Act was crafted from the bottom up with input from community bankers who know what will work on Main Street," Marranca said in his testimony on behalf of the community banking sector. "My bank, like many community banks, has been in business for over a century and survived the Great Depression. Our longevity is a testament to our conservative risk management and commitment to serve our communities in good times and in bad. CFA provides appropriate tiering of regulation and relief for smaller, low-risk institutions so they can better serve their communities."
The Communities First Act is supported by 36 state banking trade groups around the nation, and a companion bill (S. 1600) is advancing in the Senate.
Marranca went on to say that the steady accretion of regulation over many decades has become a growing threat to community banks. To community banks like his, regulation is a disproportionate expense, burden and opportunity cost. He said that the resources a community bank must commit to regulatory compliance are out of proportion to their primary business—lending in their communities to support the local economy.
"The Communities First Act contains 26 tax- and regulatory-reform provisions. It is a broad and diverse bill because there are some 7,000 community banks of different charter types, ownership and lending specializations," Marranca said. "While no one provision of the legislation is a silver bullet, combined they will have a positive impact for community banks and their customers."
During his testimony Marranca highlighted some of the Communities First Act provisions, including:

Short Form Call Report for Qualifying Banks: This change would reduce the burden on qualified community banks without compromising safety and soundness.
Exemption from Escrow Requirement for Mortgages Held in Portfolio: This provision would help keep community banks in the business of making common-sense mortgages.
Eliminating Annual Privacy Notices When No Change in Policy Has Occurred: Annual notices when no change in policy has occurred do not provide useful information to customers and represent an unproductive expense for financial institutions.
Marranca concluded his testimony by encouraging members of the committee to reach out to the community bankers in their district to ask them whether the reforms of the Communities First Act would help them to better serve their communities. "I'm confident they would say 'yes,' and to the leaders of these subcommittees, we encourage you to act on this legislation soon in response to the struggling economy," Marranca said.
For more information, and to read the full testimony, visit http://www.icba.org.
About ICBA
The Independent Community Bankers of America, the nation's voice for community banks, represents nearly 5,000 community banks of all sizes and charter types throughout the United States and is dedicated exclusively to representing the interests of the community banking industry and the communities and customers we serve. For more information, visit http://www.icba.org.
# # #