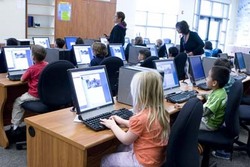 Once again, we are extremely pleased to see the percentages of students deemed proficient or advanced on the California Standards Tests continue to rise
Irvine, CA (PRWEB) September 17, 2008
The schools in the Villages of Irvine continue to place among the highest ranked schools in Orange County. State Superintendent of Public Instruction Jack O'Connell recently released the 2007-2008 Accountability Progress Report (APR), providing important information about student progress in California schools. Results show another year of high marks for the Irvine Unified School District.
All four of Irvine's high schools ranked among the top six in Orange County in highest average SAT scores. University High ranked third in the county and tenth in the state with an average SAT score of 1861. The residents of the master planned community of Portola Springs attend Northwood High, which followed with an average of 1762 and Woodbury's residents attend Irvine High, which posted an average of 1714. Irvine Unified School District also charted the highest passing rate among school districts on the California High School Exit Exam - 98 percent passed math and 96 percent passed English.
In addition to SAT scores, the state's Standardized Testing and Reporting (STAR) program reported similar outstanding academic performance. According to California Standards Tests (CST), grades two through eleven have exhibited another increase in English/language scores and mathematics scores; often well above the county average.
"Once again, we are extremely pleased to see the percentages of students deemed proficient or advanced on the California Standards Tests continue to rise," said Irvine Unified School District Superintendent of Schools Gwen E. Gross. "While test scores are not the sole barometer of achievement for a school district, our staff, parents and students should be very proud."
Home to some of the highest ranked schools in Orange County, the Villages of Irvine provide families with quality homes, neighborhoods and education.
To find out more about the educational opportunities, master planned community designs and community features offered in the Villages of Irvine, including Portola Springs (recently named master planned community of the year) and the award winning Village of Woodbury, visit http://www.villagesofirvine.com today.
About Irvine Company
The Irvine Company is a privately held, 140-year-old real estate planning, development and investment company best known for the master planned community designs of the Villages of Irvine, the balanced, sustainable communities it has planned and created in Orange County, Calif.
###