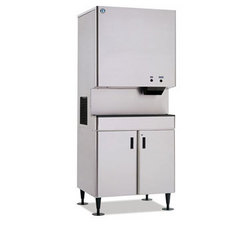 The majority of commercial ice machines have internal components exposed to the kitchen environment
Brooklyn, NY (PRWEB) April 5, 2011
Commercial kitchens now have a cleaner, safer way to make ice, thanks to a new invention by Robert Almblad of Origin Tech. Almblad's ice machine, which he presented at the 2011 North American Food Equipment Manufacturer's (NAFEM) show, virtually eliminates bacteria from the ice machine through a system design that forces air through a high-efficiency particulate air (HEPA) filter. A number of Hoshizaki ice machines are self-contained and use sealed LED remote sensors to reduce contamination. The HEPA method, while new for commercial ice machine design, is already used in commercial water bottling processes and sterile "clean rooms" in hospitals and laboratories.
But, why, exactly, does this new technology matter--and what could it mean for commercial ice machine manufacturing as a whole?
According to Michael Newman, sales director for CKitchen.com, the end result of the new technology is that it reduces, or eliminates, slime-causing bacteria. "The majority of commercial ice machines have internal components exposed to the kitchen environment," explains Newman. "Elements from the air in the kitchen can get into the water that is used to make the ice, including bacteria, hair, dust, dirt, and other things we'd rather not think about. With those contaminants in the water system, the ice can become unhealthy and loaded with matter that can make diners sick."
The slime produced by standard traditional ice machines can lead to food-borne illness. But the slime won't always cause illness; it can also cause discoloration and affect the odor and taste of the ice.
So what can commercial kitchen operators do to improve the quality and safety of their ice while waiting for Almblad's technology to be more widely integrated?
They can look for sanitary ice machines that are built to reduce or eliminate opportunities for contamination, said Newman. "Restaurant owners that value their business' reputation and customers' health should consider some ready available ice making machines with various contamination preventing features," said Newman.
Included in the list of safe options is the DCM Series Sanitary Cubelet Ice Machine and Dispenser by Hoshizaki. The Hoshizaki design features a self-contained unit that reduces opportunities for cross-contamination. Additionally, the machine uses sealed LED remote sensors to enable operators to use it hands-free.
For more information about Hoshizaki ice machines or other safe commercial kitchen products, visit CKitchen at ckitchen.com.
More About Ckitchen.com
CKitchen.com is an E Friedman Associates Inc. company providing more than 25 years of quality ice machine equipment and service. Established in 1984, E. Friedman is fully authorized and represents all major brands of restaurant equipment, including Manitowoc, Scotsman, SerVend, and ICE O-Matic.
CKitchen.com offers more than 50,000 popular items through their Web site and maintains an inventory of more than 300,000 products. E. Friedman is a member of The EDI Consortium with over $1 billion in annual sales.
For more information, visit http://www.CKitchen.com.
###