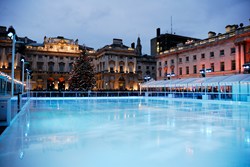 Ice rinks in London have become part of the social echoes of this festive season.
London, UK (PRWEB UK) 14 December 2012
To launch its new recommendation programme, Easy Relocation (exclusive), London relocation experts, share their top 5 picks for one of the most seasonal and festive activities this holiday season in London: ice skating.
"In the last few years we have witnessed a progression of public festivities in London that take place during the weeks running up to Christmas, " said said Easy Relocation founder Rozi Bani-Ameri. "Beginning around mid-November with a frenzy, London transforms into a magical city during this season and has impressive ice skating venues to be discovered."
Easy Relocation's new recommendation programme is designed to introduce unique events and venues in London that have standout characteristics and qualities in the arts, culture, social and leisure scenes. Through this program, Easy Relocation hopes to help individuals and families--especially those new to the city--become fully familiar with London and the vast diversity the city has to offer.
Easy Relocation's top recommendations for ice skating rinks in London include:
1.Somerset House
2. The Natural History Museum
3. Hyde Park
4.The Tower of London
5. Broadgate
For more information, including tickets and prices, please visit the websites of each venue. Also, for these most popular ice rinks it is advisable to book in advance.
"London is a magical place at Christmas where seasonal sentiments are nurtured through the festive events and activities the city has to offer," said Bani-Ameri. "London ice rinks bring together families and people of all ages and genders, friends, colleagues and even photographers. Ice rinks in London have become part of the social echoes of this festive season."
Follow Easy Relocation on Twitter @EasyReloexcl and on Facebook at https://www.facebook.com/EasyRelocationExclusive
Contact Us:
PO Box 66446
Maida Vale
London W9 4EJ
+44 (0) 20 7286 5249
For more information about Easy Relocation's services for your business or personal needs, visit http://www.easyrelocation.co.uk and join us on Facebook and Twitter for the latest news and tips on London relocation.
About Easy Relocation:
Established in May 2012, Easy Relocation (exclusive) offers affordable and comprehensive relocation assistance and home search to companies and individuals moving to the UK and moving to London. Unlike other UK estate agents, at Easy Relocation we hold no business commitments with third parties or letting agencies. This gives us flexibility to conduct personalized, attentive and wide ranging property searches tailored to each client's budget, needs and taste.