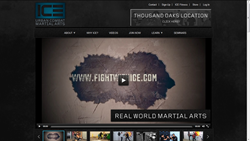 It is a common knowledge that streets are no longer safe. Keeping this in view, the Schmelter siblings devised a unique system of self-defense that enables the individual to gain real fighting confidence & safeguard himself as well as his family from harm
Los Angeles, California (PRWEB) June 25, 2014
ICE Urban Combat has emerged as one of the most reliable and reputable martial art center for online training. Brainchild of martial art aficionado siblings Brandon and Jared Schmelter, it prepares the learners for real and life-saving street combats. The brothers at the helm of affairs at ICE Urban Combat flaunt a collective experience of over five decades of training in Aiki-Ju-Jitsu, Escrima weapons training, and most importantly, the effective fighting art of Bruce Lee - Jeet Kune Do.
A senior trainer with ICE Urban Combat in a recent interview had this to say, "It is a common knowledge that streets are no longer safe. Keeping this in view, the Schmelter siblings devised a unique system of self-defense that enables the individual to gain real fighting confidence and safeguard himself as well as his family from harm. Therefore, we call it the science of street fighting. We are providing training for this unique version of street fighting to individuals and organizations that may include private and group training sessions at universities, law enforcement organizations and among security professionals across the country. This speaks volumes about the effectiveness of our combat techniques."
What makes the combat methods offered by ICE Urban Combat stand apart from the rest is the fact that it is a fine blend of the effective principles and techniques incorporated in various combat disciplines. It uses the best-suited techniques from Jeet Kune Do and Jiu Jitsu to offer a martial art lesson that can save the day for the trainees. Moreover, it utilizes the body's mechanical advantages to subdue an opponent, regardless of their size, strength, fighting skills or method of approach. The best thing about the combat system is that it does not burden the finances of the aspirant.
Elaborating the features, the official further opined, "We have a fully equipped facility in Los Angeles, California, dedicated to train the aspirants with the nuances of the art. However, it is not feasible for many to visit our facility to seek training of this unique street combat system. Therefore, keeping their convenience in mind, we have launched martial art training videos. Designed with an intent to provide a creative and innovative learning environment, it enables the student imbibe information as quickly as possible. The teaching method of these videos on offer is methodic and professional to the core. Moreover, we have taken care of the minutest of the details while designing these videos."
ICE Urban Combat has introduced over a dozen of high quality videos. These videos have become a rage among martial art aspirants world over. In addition to it, the highly endowed martial experts, Brandon and Jared Schmelter offer invaluable tips and insights on how to choose a martial arts school. These tips would enable the aspirants to choose the martial art school that can cater to their comprehensive needs and aspirations.
About ICE Urban Combat:
Brainchild of martial art aficionado siblings Brandon and Jared Schmelter, ICE Urban Combat is a highly sought after martial art center with proven record of accomplishments. Apart from Schmelter brothers, it has a highly endowed facility of trained professionals that serves the students to the best of their ability. Therefore, it makes perfect sense to avail the Martial Arts video lessons and lectures from ICE Urban Combat at incredibly low prices.
Contact Details:
ICE Urban Combat
Contact Page: http://www.fightwithice.com/contact/
Website: http://www.fightwithice.com/