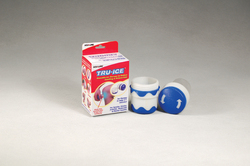 N. Attleboro, MA (PRWEB) February 11, 2008
Health Enterprises, Inc. a leading manufacturer of niche health care products is introducing the Tru-Ice Ice Massager for fast, effective cold therapy. Tru-Ice provides cold therapy in one-third the time of an ice bag to help reduce swelling and relieve pain. Tru-Ice is great for sprains, strains, arthritis, tendonitis, and plantar fasciitis. The ergonomic, reusable design is easy to use on a knee, elbow, ankle, foot, neck or shoulder. The patented design provides the full therapeutic benefit of ice without the melting mess.
In addition to traditional sports medicine uses (sprains, strains, etc) Tru-Ice can provide fast, effective cooling relief for headaches, fever, migraines, insect bites and hot flashes.
Tru-Ice is the latest addition to the innovative assortment of hot and cold therapy products from Health Enterprises, which includes Hot and Cold Therapy Braces delivering the protection and support of a brace with targeted, easy to apply hot and cold therapy for a back, knee, ankle, elbow or wrist.
About Health Enterprises, Inc.:
Health Enterprises, Inc. is a worldwide leader in niche healthcare products including Medical Compliance, First Aid, Eye/Ear, Oral Care, Medical IDs and Lice Care. Health Enterprises products are sold at pharmacies, supermarkets, and mass merchants in the USA and around the globe. For more information about Health Enterprises and its complete product line, please visit http://www.healthenterprises.com.
###