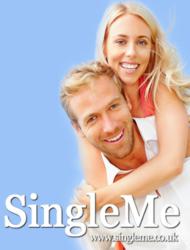 Everybody knows that sending the first communication on a dating site can be the most daunting. The Ice Breaker makes it easier to find a first date.
London, UK (PRWEB) September 20, 2011
When you join a singles dating agency making the first move is often the most daunting prospect on the long road to meeting a first date or developing a romantic relationship. SingleMe local dating has introduced the Icebreaker matchmaking tool which is available to all its single members.
SingleMe Media Director, Chris Blagden explains, "The introduction of the Icebreaker ensures that singles are able to write a message introducing themselves to other lonely single men and women and explain exactly what they're looking for in a date or friend."
The Icebreaker dating tool works by sending a message and profile link to hundreds of unattached single members and potential dates determined by age and location.
By using the Icebreaker lonely singles are able to reach out to members of the dating community with a single click of a button.
One of the biggest benefits to anyone looking for a first date is that it encourages a better quality of single date in the database. Since in order to be able to send an Icebreaker the members are required to have a full personality profile and a editorially moderated profile picture.
SingleMe local dating has launched this Icebreaker facility to offer a superior dating experience for its members. By using the Icebreaker single men and women from all across the UK are able to flirt, chat and date more effectively than ever before.
First dates are happier, better matched according to attraction, personality and background and dates are far more likely to develop into a loving relationship that endures.
About SingleMe Local Dating
SingleMe is a UK based online dating and matchmaking service that offers a superior dating experience for single men and women searching for first dates and long term relationships.
SingleMe offers a flirty, fun and relaxed local dating platform and a lively singles community for all of its members.
###