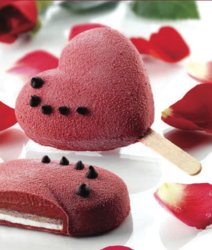 Greensboro, NC (PRWEB) December 20, 2011
Imported directly from Italy and available now at Advanced Gourmet's online store, these professional silicone molds will allow the craftsman, confectioner, or ice-cream maker to offer ice-creams on the stick or cookies with multi-flavored decorations, widening their product offer.
With the new 100% food-safe silicone mold line by La Gelateria in Italy, the guarantee of a superb result has no precedents in professional ice-cream making.
La Gelateria mold collection by Silikomart grants lower production times, it's compatible with any ice-cream machine, it's easy to storage, and allows for simple and perfect demolding at any temperature (down to -60°C). In addition, all the molds can also be used for baking up to 230°C.
The era of aluminum or plastic molds, which made getting the ice cream out a long and complex operation is over. With these new molds, professional ice cream makers and confectioners will be able to create a gorgeous, quick, high-quality, and customizable product every time.
ABOUT ADVANCED GOURMET
Advanced Gourmet Ice Cream and Gelato Equipment and Design offers education and consulting along with ice cream and gelato equipment, supplies, product, and complete support for those wishing to open a new retail shop, add frozen desserts to an existing shop, or simply research the many opportunities within the exciting frozen dessert industry.
###