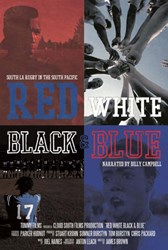 Los Angeles, CA (PRWEB) January 30, 2013
ICEF Public Schools today announced that their documentary film "Red, White, Black and Blue" has been awarded "Best Documentary" at the Idyllwild CinemaFest, and will continue on the film festival circuit towards a distribution deal. The film chronicles the rugby program at ICEF – a K-12 public charter school network in South Los Angeles – and the team's trip to New Zealand in spring 2012, where the students interacted with different cultures and discovered new opportunities while competing in rugby.
The film also highlights the importance that ICEF places on preparing and sending students to college, following the seniors as they anxiously check their application status. Celebrating with senior and valedictorian Ebony McCaskill when she discovers that she's been accepted to Brown University, parent liaison Monique Bacon explained, "It means a lot for our children, especially our black children, to go to college. This is the goal I've stressed for my own kids since they began kindergarten."
The ICEF rugby teams are often the only African-American teams in their tournaments. This focus has placed ICEF students under a microscope, especially when they travel abroad, as other communities often have exaggerated perceptions of life in South Los Angeles from popular culture. Cross-cultural experiences and life enrichment are the key reasons that Stuart Krohn, Director of ICEF Rugby, organizes international trips for his players each year.
A former professional rugby player and English teacher, Krohn began the rugby program at ICEF ten years ago. While rugby is a sport that many ICEF students have never encountered before, over 4,000 students have been introduced to rugby through P.E. classes and after-school programs and 200 boys and girls compete on the tackle rugby teams each year. Previous international trips have toured Hong Kong, England, New Zealand and South Africa.
"Rugby is a chance for our students to step outside the box and try something different," Krohn explained. "The camaraderie in this sport is special – we stay with host families and eat meals with the opposing team, so kids get the opportunity to see how other people live. Our kids have the ability to suspend judgment and defy the stereotypes that other people might have of them."
Leodes Van Buren, Jr., one of the players featured in the film, echoes that feeling. A young man named after his father, a convicted criminal, he is determined to lead a different life. "Our actions are taken in by the people we interact with, both on and off the field," Van Buren, Jr., said. "ICEF has given me the opportunity to grow and participate in life in ways that I never could have imagined. When we travel, I want to represent my country and my school well."
"Red, White, Black and Blue" will continue to appear in film festivals, including the San Diego Black Film Festival in February, the San Luis Obispo International Film Festival in March and the Documentary Edge Festival in New Zealand in April. The film aims to draw a sell-out crowd with a red carpet event in its local community at the Pan African Film Festival, America's largest and most prestigious black film festival, where the film will be shown at the Rave Baldwin Hills Plaza in Los Angeles on February 12, 2013.
About ICEF Public Schools
ICEF Public Schools was founded in 1994 with the goal to transform the South Los Angeles community by providing high-quality educational opportunities for its students and preparing students to attend and compete academically at the top 100 colleges and universities in the nation. ICEF has achieved great success in closing the achievement gap for African-American and Latino students through an established K-12 model based on academic rigor, high expectations for its students, parental involvement and rich extracurricular offerings in athletics and performing/visual arts. ICEF currently serves over 4,200 students, 81 percent of whom are African-American, 16 percent are Latino and 82 percent are low-income, across 14 elementary, middle and high schools across South Los Angeles. To learn more about ICEF Public Schools, visit http://www.icefps.org.
About "Red, White, Black and Blue"
"Red, White, Black and Blue" (http://redwhiteblackandbluemovie.com/) is a documentary film chronicling the ICEF rugby program's tour of New Zealand in spring 2012. Shot in both Los Angeles and New Zealand, the film follows 38 male and female high school rugby players as they travel abroad to play international teams, interweaving rugby matches with features of several students. "Red, White, Black and Blue" provides a sensitive take on a rough game, blending on-field triumph with off-field tragedy. To learn more about ICEF's rugby program, visit http://icefrugby.com/.