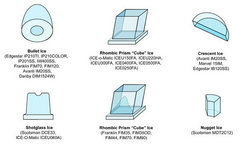 People are crazy about their ice
Austin, TX (PRWEB) August 5, 2009
Once considered a luxury item; ice makers are now going mainstream. From its roots as a staple in the commercial food service industry, the ice maker has evolved into several residential variations with much smaller price tags. In doing so, the ice maker has become increasingly popular with average Americans.
Ice makers are an easy and cost effective alternative for individuals tired of hassling with ice trays, miniscule ice storage bins or trips to the store to buy bags of ice. Personal ice machines offer the benefits of increased ice making ability and extra ice storage, which is ideal for families, as well as those who live in remote areas, small apartments and college dorm rooms.
Before buying an ice maker though, it is necessary to know the unique differences between ice maker types. Ice makers are commonly categorized by capacity, whether or not they have a refrigerated storage bin and even the type of ice produced. CompactAppliance.com has created a breakdown of the three most sought after types of ice makers to make shopping for one simple.
1. Clear Cube Ice Makers
What distinguishes clear cube ice makers from other types is the ability to produce clear, restaurant quality, square-shaped ice cubes. The clear cube ice maker does so by running water over a vertical grid chilled to precisely 32 degrees Fahrenheit. Because only pure water freezes at this temperature, impurities in the water are discarded and pure ice is all that accumulates. The clear cube ice maker is favored by restaurants and other food service providers because of the presentation of the ice it produces and the ice storage these models offer. In higher-end commercial-style models, the ice can be stored inside the ice maker without melting, because the storage bin is refrigerated to freezing temperatures. However, many residential models do not have a refrigerated storage bin, leading to gradually melting ice in the bin. Some clear cube ice makers, such as the Franklin FIM35 from CompactAppliance.com, can make up to 44 pounds a day and store 26 pounds continuously, while others, like the Scotsman DCE33PA, produce slightly less ice per day, but can store the same amount. Both models offer homeowners restaurant quality clear ice at an attractive price point, but cannot provide long term ice storage.
The downside with commercial or clear cube ice makers is they are more expensive to purchase and operate than other home ice makers and portable ice makers. This is primarily because the clear cube ice maker technology is more complex and the components are more expensive to manufacture. Also, the clear cube ice creation process sends impure water down the drain, rather than making it into ice, which could lead to higher utility bills. Additionally, these clear ice makers require a 115v power source, a water line in, and a water line out to make ice. Clear cube ice makers range in price from $850-$4150.
2. Built-In/Freestanding Ice Makers
Built-in ice makers are engineered to fit under a kitchen or bar counter, but they can be used freestanding as well. They produce ice that is crescent-shaped like the ice from a common refrigerator/freezer ice maker. The crescent-shaped ice is created by freezing water in a tray with crescent-shaped divots, then separating the ice from the tray with mechanical fingers that move in a raking motion. One common misconception is that ice from built-in ice makers is cloudy due to impurities in the water. The ice is white instead of clear, but not necessarily because of water impurities. Rather, water in built-in ice makers is frozen much faster than in clear cube ice makers. In the process, tiny air bubbles get trapped, causing the cloudy appearance of the ice.
Most of these models do not require a drain as the ice storage bin is kept at freezing temperatures. Most models, like the EdgeStar IB120SS, only require a 115v power source and a water inlet line to make ice. While these units generally make ice faster than clear cube ice makers, they produce ice slower than portable ice makers. They range in price from $320-$2090.
3. Portable Ice Makers
Portable ice makers are the fastest, smallest and most versatile ice makers on the market. They produce ice that is cylindrical or bullet shaped, with a round hole in the middle and an opaqueappearance. Water is manually added to the machine and within 10 minutes the first batch of ice is produced. First, the water is pumped into a small tub with blunt stainless steel pegs immersed in the water like popsicle sticks. The pegs have heating and cooling elements inside that first freeze the water around them, creating the bullet shape with the peg hole in the middle. Once the water is frozen, the pegs then become warm and the tub rotates allowing the ice to slip off into the storage bin below.
Portable ice makers are well insulated but do not have refrigerated storage bins and therefore cannot store ice long term. However, instead of requiring the melted ice to be drained, the ice maker recycles the water to make more ice. A portable ice maker, like the Edgestar IP210TI can hold up to 2.5 pounds of ice at a time and is able to produce up to 30 pounds of ice per day. This model was also featured on The CBS Early Show for July 6, 2009 as one of the best gadgets for staying cool during the summer. Portable ice makers range in price from $145-$245.
CompactAppliance.com, a market leader and online retailer of ice makers for a decade, has seen a 20% increase in ice maker sales this year, despite the down economy. The company plans to continue expanding their ice maker product offering to accommodate the booming residential ice maker market.
"People are crazy about their ice," said Peter Keller, Director of Product Development at CompactAppliance.com. "Whether intended to be used in a home bar, camp site, or even a military field hospital in Afghanistan, our customers demand ice makers that are extremely durable and priced right."
About CompactAppliance.com:
CompactAppliance.com was founded in 1999 by Rick Lundbom and is part of the Living Direct network. The company is a multi-million dollar eCommerce enterprise consistently ranked in the Internet Retailer Top 500 Guide of America's largest e-retailers, as well as a respected member of the Better Business Bureau.
For more information, please visit CompactAppliance.com.
###