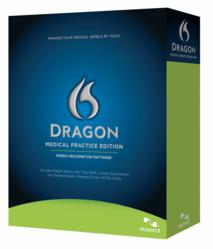 Without the help of Ice Peak Solutions I would not be using Dragon and the practice would be much more complicated.
British Columbia, Canada (PRWEB) March 08, 2012
With the current trend towards incorporation of Electronic Medical Records (EMR), Ice Peak Solutions is helping physicians throughout Canada recognize that Dragon® Medical Practice Edition, a state-of-the-art speech recognition program manufactured by Nuance, is the tool to help physicians and their practices' more easily migrate to using EMR.
Now celebrating its 10th anniversary, Ice Peak Solutions, a speech recognition specialty company and an Advantage Dragon Medical Partner, provides several speech recognition products to the medical industry, as well as Dragon Medical Practice Edition training, integration and maintenance.
The demand for this technology is growing, as evidenced by recent statistics. According to Canada's most comprehensive and influential survey of physicians, the latest 2010 National Physician Survey offered that approximately 16 percent of physicians reported using EMR instead of paper charts (compared to approximately 7 percent in 2007). Additionally, approximately 34 percent reported using a combination of paper charts and EMR (compared to approximately 26 percent in 2007). Data comparing the range and scope of services for current physician practice patterns and future physician practice intentions continues to support major growth in speech recognition software integration.
"The move to EMR is easier for physicians to manage when they use Dragon Medical Practice Edition," says Cheri van Eyden, Owner of Ice Peak Solutions. "Time is everything to physicians and with this program they can finish their dictation in minutes after seeing the patient and move on to care for their next patient."
Van Eyden also points out that oftentimes, the service and support that physicians need when adopting a new system like Dragon Medical Practice Edition can make all the difference in how receptive they are to using it.
"Ice Peak Solutions has been a great help to me," says Dr. Carl Shearer of New West Sports Medicine in New Westminster, B.C. "I previously purchased 2 versions of Dragon Naturally Speaking and attempted to learn and use them on my own with great frustration and disappointing results that led to abandonment. Ice Peak Solutions made it all seem so easy on my third try. I am now using Dragon Medical for all of my office solutions and love it," adds Dr. Shearer. "My secretary used to have to type all my dictation – this tied her up and interfered with her other important office functions. We often ran 6-8 weeks behind on transcription. Now the consults are typed and sent out to the referring doctors within 1 day of seeing the patient. It is all much simpler and more efficient, and our office runs much more smoothly – thanks in great part to Dragon. Without the help of Ice Peak Solutions I would not be using Dragon and the practice would be much more complicated."
The speech recognition engine of Dragon Medical Practice Edition has an overall accuracy of 99%, and includes vocabularies covering nearly 60 medical specialties and subspecialties. The software is easier to navigate and has a significantly improved 'correction' function. Designed to be paired with other third-party applications, it includes new 'smart' configuration tools that detect hardware, which easily integrates with it.
Ice Peak Solutions also support the most popular handheld microphones used with Dragon Medical Practice Edition namely the Nuance PowerMic II and Philips SpeechMike. Both offer high quality input and ease of use.
The application also features a sidebar for enhanced navigation in all programs, opening up the ability to work easily in the programs a user chooses.
Ice Peak's expertise in guiding medical professionals through the transition to EMR includes experience with most of the PITO-approved EMR including IntraHealth Profile, Med Access, Osler Systems Management, Wolf Medical Systems, and Linux-based EMR Oscar. As part of their full-service integration of a practice's voice dictation into their chosen EMR, Ice Peak provides training to practice staff. Van Eyden says that Ice Peak's training is user-friendly and typically takes between two - three hours. For more information on this customized solution, visit http://www.icepeak.ca/products/medical/index.html.
ABOUT ICE PEAK SOLUTIONS
Ice Peak Solutions is based in British Columbia, Canada and provides speech recognition services to individuals in the Healthcare, Legal, Professional and Disabilities sectors. Vertical specific products can be found by visiting http://www.icepeak.ca/products.html. Since 2002, Ice Peak Solutions has consistently provided quality services that include selecting the correct speech recognition software, to the successful installation, implementation and training. For more information on Ice Peak Solutions, please call (604) 945-0057 or visit http://www.icepeak.ca.
# # #