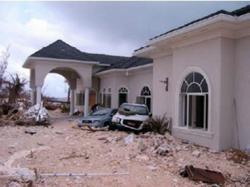 Building with reinforced concrete walls can provide durable protection against future storm disasters.
Amityville, New York (PRWEB) January 15, 2013
How can you build a storm-proof home? Homeowners across New York and New Jersey are rethinking how to rebuild after Hurricane Sandy. Residents are discarding traditional wood frame construction demanding super-strong structures able to withstand recurring "100 year" storms. Wood framing is out, concrete forms are in. Insulated Concrete Forms, to be exact.
Insulated Concrete Forms (ICF) have been widely used to build hurricane-resistant, safe and energy efficient homes for over 50 years, according to the Portland Cement Association. "Imagine the internal walls of your home formed with the same strength and durability as your concrete foundation, but with the added benefits of mold and insect resistant insulation and unparalleled durability", says Rich Jones, President of Foam Form Technology, the North East's leading supplier of ICFs. "Homes built with ICFs are impervious to wind, water and mold damage, are highly energy efficient and can be clad with any surface material you want."
Northeast homeowners are looking at the successful construction methods used in the Midwest's tornado alley and Florida's hurricane-prone regions for real world storm survival evidence. "Homes fortified with concrete forms have the lateral capacity to resist the strongest horizontal forces imposed by high-wind events. It's been carefully studied and approved by FEMA and International Builders Code (IBC)," continued Jones. In laboratory testing conducted by the Wind Science and Engineering Research Center at Texas Tech University, standard wood frame walls failed severe wind and debris testing, while ICF walls withstood the impact and remained solid and strong.
In Harrison County, Mississippi, homes built with ICFs were the only structures to survive the onslaught of Hurricane Katrina. FEMA conducted a special study to learn more about the benefits of ICF construction. In addition, the State of Florida has endorsed many types of ICF systems in their residential building codes in hurricane prone areas.
"In the New York and New Jersey region, there are over one hundred certified expert ICF installers who will work with you, your general contractor or architect", added Jones. It isn't enough just to rebuild the same house that was there before Hurricane Sandy. Building with reinforced concrete walls can provide durable protection against future storm disasters, while offering long lasting safety, energy, and comfort benefits.
Foam Form Technologies is a leading supplier of Lite-Deck and Flexx-Block insulated concrete forms for residential and commercial buildings. Foam Form Technologies is headquartered in Malvern, Pennsylvania.