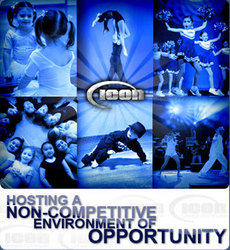 Not only is ICON a "dance complex", it's a place where kids can be kids and really learn the art of dance. Every time I'm on the east coast I make it a point to stop by the studio and teach. I have so much respect for everyone there and I hope to one day
Hoboken, NJ (PRWEB) September 15, 2010
ICON Dance Complex will celebrate its fifth anniversary year with the introduction of a new website that's designed to educate and entertain an infinite student and audience base. Founders GEO and Beth Hubela, a brother and sister team who run The Complex with their family, unveiled the online hub this week at http://www.icondancecomplex.com. The web announcement highlights a riveting showcase of news and opportunities for returning students; plus photos and videos for agents, corporations and sponsors interested in working with ICON dancers.
The careers of ICON Dance Complex faculty and guest teachers span from MTV's America's Best Dance Crew to concert tours, film, TV, Broadway and beyond. Not far behind are the young paths of the students including performances for Kenny Ortega, Nick Jr., Nets Kids, The Apollo Theater, MTV's Made, Beatstock, Trenton Thunder and many others.
"ICON students actively pursue recreational and professional dance careers within our studios and at main attractions all year long. Their talent, dedication and passion is exhibited on our new website; which is the epitome of our collaborative success as a growing dance family in the heart of New Jersey," stated GEO Hubela, Founder of ICON.
Inquisitive fans can explore the success of the growing enterprise at the new http://www.icondancecomplex.com. Don't miss the ICON Kidz page featuring a drawing fundraiser designed to encourage donations to St. Jude Children's Research Hospital (started by entertainer Danny Thomas).
The streamlined brand story of ICON Dance Complex during their fifth anniversary year incorporates a website re-launch, a five page brochure that opens up to a commemorative poster which can be signed by the stars during workshops, GEO's personal website http://www.hiphopgeo.com, an interactive ICON of the Year blog, ICON Clothing and Gear, as well as several blossoming success stories.
Discover the Be ICONic motto that resonates across the dance and performing arts industry from ICON Dance Complex in Englishtown, NJ. Visit http://www.icondancecomplex.com today.
# # #