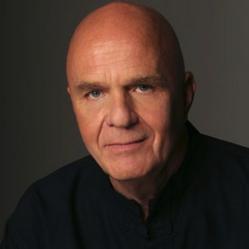 "He's the real deal."
- Dr. Wayne W. Dyer
Brisbane, Australia (PRWEB) March 10, 2012
When Michael Taylor, M.D. of Connect with Spirit™ came out as a medical intuitive and energy healer and left his N.C. practice in 2006, he began a journey to explore alternative paths to wellness' ones that did not involve taking medications, and ones that assumed personal responsibility for one's health. Ultimately, it led him to Australia.
With a struggling global economy, skyrocketing healthcare and insurance costs, people need simple, cost-effective ways to be and stay healthy. Rediscovering non-medical techniques including meditation, assisted intuition and spiritual healing among others, "Dr. Michael" found benefits beyond improved physical and mental health, including proven business results, such as: increased productivity and profit, and a significant decrease in staff sick days and workplace injuries.
"He's the real deal," Dr. Wayne W. Dyer said to a Sydney audience about Dr. Michael and his medical intuition after he performed his didgeridoo-based spiritual healing on the inspirational author in 2010. Dr. Michael says, "Everyone has intuition and gut feelings' only most ignore them with disastrous results. My life became extraordinary when I embraced my intuition and spirituality. I learned my "good guesses" about the very private lives of complete strangers were true. So, I began incorporating spirituality into my life and developing my intuition – to help others and to help me understand myself. Because, quality of life is much more important than longevity."
Dr Michael's psychic-medium wife, known to Australians as "K, the clairvoyant and channeler" believes, "Understanding ourselves is so important, especially with all of life's rapidly changing technology, social and financial stressors. Also, everyone can live a happier life if they apply our simple but effective methods, not just the spiritualists, meditation teachers, psychics, and angel therapy practitioners. Ordinary people live extraordinary lives when they improve their intuition and natural psychic abilities."
K and Dr Michael of Connect with Spirit™ are teaching for the first time in the USA the I Connect with Spirit Intuitive Workshop at the Sheraton Garden Grove Anaheim South Hotel, near Disneyland in Anaheim, CA. This psychic development and intuitive skills workshop runs daily from 9 AM-to-5 PM, April 20, 21 & 22, 2012, and is open to all adults over the age of 15. No experience is necessary. Tickets must be purchased from their website before the 1st of April 2012.
With this 3-day intuitive workshop, attendees have an opportunity to explore their intuitive gifts and intuition to discover their full potential. Using very unique techniques and exercises, attendees will learn a new and better way to read angel oracle cards, easy practical ways to achieve deep meditation, and methods of assisted intuition by working with angels and spirit guides to get accurate messages for yourself and others.
About Connect with Spirit™
Connect with Spirit™ is an Australian company of psychic authors and speakers that teach meditation and spiritual development workshops worldwide. Their mission is to reduce conflict, inspire excellence, and promote wellness with a healthy spiritual awareness by exploring one's spiritual truths, so that people can live a more rewarding life by the alignment or the realignment of mind, body and spirit. Their specialty is teaching I Connect with Spirit meditation and intuitive skills development, but they speak on a variety of topics and give live audience psychic readings and channeled messages from Spirit.
To learn more about K and Dr Michael, Brisbane's husband and wife psychic duo, or their first novel, Dating the Messenger, which explores K's true modern story of an extraordinary person looking for love, please visit the Connect with Spirit™ website at http://www.connectwithspirit.net.
###