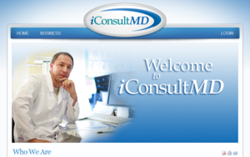 The Joomla team at US Joomla Pros helped us create a user-friendly portal which improves the efficiency and quality of triage decisions in ER's, nursing homes, and urgent care facilities...
(PRWEB) July 28, 2011
Scott Prendergast of US Joomla Pros announces the successful release of iConsultMD.com, a telemedicine web portal that allows point-of-care providers to triage wounds, face, and hand injuries. Clients photograph and submit injuries to an online staff of Plastic Surgery Experts (PSEs). iConsultMD's portals intuitive interface facilitates quick and accurate case description, with up to four graphic uploads. The system logs the case, and notifies the PSE on duty by email and SMS message of a pending case requiring a response.
Within seconds a PSE on duty is notified to login. US Joomla Pros coded a triage algorithm supplied by iConsultMD's Plastic Surgeons to walk responders through a matrix of likely responses based upon the injury type and details. After analyzing the case data and images, the PSE inputs best practice recommendations on computer, tablet, or smartphone. The requesting client (Emergency Department, nursing home, long term care facility, or correctional institution) is notified via email and SMS text message that a PSE response is waiting for them in the system.
David Stabb, CTO of iConsultMD.com, tells us, "We knew there was a need for Emergency Departments to improve outcomes by having faster and easier review of hand and face injuries by Plastic Surgeons. Many facilities just don't have readily-available specialists. Longer term care facilities and correctional institutions face high costs of transporting patients to see a specialist. In both of these cases iConsultMD was developed to provide a cost effective way for them to get fast expert analysis of their case without the ever-increasing cost of alternative solutions."
He also added, "Our original spec called for an initial site based on Joomla, followed by an implementation with a bridge to Al Fresco. US Joomla Pros expertise in PHP & MySQL gave us the power we wanted right away. The guys at US Joomla Pros helped us make iConsultMD's enterprise portal better than we had initially hoped. As we grow, USJoomlaPros will be a big part of our continued development and future site improvements, including creation of iPhone/iPad and Droid Apps."
"What can I say, this was a great project. Being able to develop cutting edge technology that provides real world solutions to major problems really gives you amazing satisfaction. The guys at iConsultMD were great to work with, and provided a solid plan for us to follow." said Scott Prendergast, US Joomla Pros business development manager.
Shawn Prendergast, US Joomla Pros lead developer, added, "There were a lot of hurdles we had to navigate along the way, but I think the proof is in the pudding. The iConsultMD.com site is one of the most robust and functional sites we have ever developed. Combining a few off the shelf Joomla components with a tremendous amount of custom component development resulted in an amazing product that will change the landscape of the Plastic Surgery medical industry."
"...our goal was to put real-time plastic surgery expertise directly into the hands of point-of-care providers when they need it most. The Joomla team at US Joomla Pros helped us create a user-friendly portal which improves the efficiency and quality of triage decisions in ER's, nursing homes, and urgent care facilities..." said Matt Trovato, iConsultMD.com's Founder and Chief Medical Officer.
About iConsultMD
We are a Plastic Surgery educational triage service providing real-time best practice information. Our team of Plastic Surgery Experts (PSEs) are all certified or eligible for board certification by the American Board of Plastic Surgeons.
About US Joomla Pros
US Joomla Pros is a subsidiary company of The Website Design Exchange, based out of Dallas, TX and operated by Scott Prendergast, his wife Nicole Levin, and his brother Shawn Prendergast. US Joomla Pros is a high end web development company that specializes in the Joomla CMS as well as creatingcustom Joomla development, Joomla components, Joomla modules, and Joomla plugins.
To contact US Joomla Pros:
Scott Prendergast
scottpjr(at)gmail(dot)com
972-859-0369
Shawn Prendergast
shawn(at)usjoomlapros(dot)com
214-274-9840
###