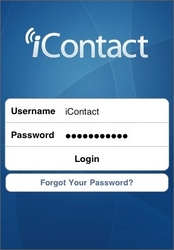 iContact for iPhone lets users tap into our powerful email marketing system on the go.
Durham, NC (Vocus) May 13, 2010
iContact, an industry leader in email marketing services for small and mid-sized businesses, announced today iContact for iPhone – a new application that allows iContact users to search contacts, send messages and access iContact analytics on their iPhone or iPod Touch.
"iContact for iPhone lets users tap into our powerful email marketing system on the go," said Keith Moore, Chief Marketing Officer at iContact. "This is just one example of what is possible with iContact's new API v.2 environment. We are excited about the many customer-focused changes coming from iContact this year."
Rich Features
iContact for iPhone delivers several of the powerful features found on the iContact web application, right on a user's mobile device, including:
Search, Create, or Add New Contacts:
Users can search through their contacts by first name, last name, or email address. This feature allows users to see if a contact is on a particular list, or add them to a list.
Sending Email Messages:
Draft messages can be sent while on the go. Users can also preview a message before sending it.
Tracking Email Results:
To see how an email marketing message is performing, users can click on the message and see the analytics for that message, including opens, clicks and bounces. The user can also email these statistics while on the go.
iContact for iPhone is available for download at the iTunes App Store here. More information on the iContact API v.2 environment is available here.
About iContact
With more than 63,000 customers, iContact provides email marketing for SMBs and non-profits. iContact allows for easy creation of email newsletters, surveys, and autoresponders. Market leaders like Intuit, Vonage, Symantec, International Paper, LG Electronics and ReMax, use iContact to build stronger relationships with their customers and prospects at a fraction of the cost of traditional marketing methods.
iContact, designed for the Small Business market is available at http://www.iContact.com; iContactPlus, a suite of custom and managed services designed for mid-sized organizations, is available at http://www.iContactPlus.com.
For media inquiries, contact Chuck Hester, APR, Communications Director,
Chuck(at)iContact(dot)com or 919.459.1451.
Visit us on Twitter @iContactCorp, iContact Linkedin Group, and our Facebook Fan Page.
###