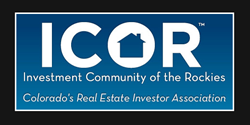 We provide advocacy at the local, state, and federal levels for the interests of our members - real estate investors. ~Tory Miller
Fort Collins, CO (PRWEB) October 22, 2013
Real Estate investors in the Colorado area, from beginners to seasoned veterans, benefit from ICOR's monthly meetings, ongoing education, extensive video and book library, as well as networking with others who have shared goals. For the serious Real Estate investor, or somebody just interested in getting their feet wet in Real Estate investing, ICOR is an invaluable resource in Colorado.
ICOR membership has many valuable benefits members receive, especially in the wake of the recent Colorado flood season. For less than $200 a year, members get access to the monthly meetings, discounts and rebates from Home Depot and Sherwin Williams, and access to a myriad of other resources that would take a beginner years to accumulate on their own. ICOR maintains close relationships with insurance providers, contractors, tax accountants, lawyers, and property managers. For nearly everything related to real estate investing ICOR has the answers its members need.
Monthly meetings are held in Northern Colorado and Denver on specified nights and these are perfect opportunities for networking and learning. ICOR members share their stories of success and failure, so others may learn. ICOR attracts professional and beginner investors of all sorts, including; contractors, appraisers, mortgage brokers, and many others. Most meetings have a guest speaker from somewhere in the field. ICOR members attend monthly meetings as part of their membership –- non-members can attend for $20, however, interested parties can attend their first meeting free of charge if they register online.
Ongoing classes and seminars provide education on a whole range of topics related to Real Estate investing. Courses include: Real Estate 101, Fixing and Flipping Real Estate, Lifestyle Design, Landlording 101, as well as Property and Tenant Management, among others.
A class series is offered twice a year, in the Spring and Fall, and students who complete the course earn 25 PHP credit hours, which is almost half of the credit hours required by the National Real Estate Investor's Association (REIA).
Troy Miller, executive director of Investment Community of the Rockies, explains that ICOR is a local real estate investment community in Colorado that is also a chapter of the National Real Estate Investor's Association. "We provide advocacy at the local, state, and federal levels for the interests of our members – real estate investors," Miller said in a recent interview. He also explained that ICOR has recently received an award of excellence from the National Real Estate Investor's Association – an award only handed out to three of the national association's 200 chapters. "Yes, real estate investment suits the individual well, but you don't have to go it alone," Miller said, "I invite anyone who is interested in real estate investing to attend one of our monthly meetings free of charge for the first meeting so you can find out what a valuable resource ICOR is to the Colorado Real Estate investment community."