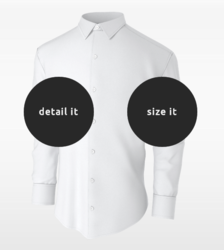 Users can order the same shirt at the click of a mouse or design a brand new shirt using those exact dimensions.
New York, NY (PRWEB) June 28, 2013
The launch last week of ICUSTOMSHIRTS.com signals a new era for men who have outgrown the in-store shopping experience. As a fully interactive and intuitive customization tool, the brand new site has been designed to bring bespoke style and comfort to men who would otherwise avoid tailoring services.
ICUSTOMSHIRTS.com streamlines the design process into four simple steps:
1. Choose a fabric from a wide selection of densities, weaves and textures.
2. Style it through customizable features such as cuffs, pocket, collar and plackets.
3. Detail it through the use of finer details such as a monogram and choice of buttons.
4. Size it by measuring yourself, measuring your favourite shirt or picking an off-the-rack size.
With a mix of conservative and bold options at their fingertips, men (and women buying for the men in their life) can create a dress shirt for any occasion and any fashion sense. The database of fabrics, while still extensive to begin with, will expand over time to provide even more choice and inspire even more creativity.
The design process is guided by a series of 3D model renderings, with every detail accounted for in a clear, realistic depiction of the in-progress dress shirt. The visual display eliminates the need for familiarity with fashion terminology, though men who've previously relied on a professional tailor will recognize the accuracy, detail and authenticity of the ICUSTOMSHIRTS experience. That's because ITW Consulting, a website design and development firm, created ICUSTOMSHIRTS.com in partnership with a tailor who has over ten years of experience in the craft.
Once a member has created an account and entered his measurements into the system, he can order the same shirt at the click of a mouse or design a brand new shirt using those exact dimensions. Members can also view past orders, update their measurement profile and save an in-progress design, which they can resume at any time.
More than just a design tool, though, ICUSTOMSHIRTS.com will strive to serve as a source of inspiration for men's fashion, a place men can visit regularly to discover current trends or learn the answers to style questions they never felt comfortable asking.
About ICUSTOMSHIRTS
The team behind ICUSTOMSHIRTS, while taking a modern approach to delivering the tailored experience, still treasures the old-world craftsmanship that goes into creating a fine garment from scratch. ICUSTOMSHIRTS.com is an extension rather than replacement of that value system, simply practised in a different environment and brought to a wider audience.