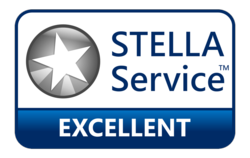 Chanhassen, MN (PRWEB) June 10, 2011
ID Wholesaler, the largest online retailer of photo identification products, has been awarded an EXCELLENT rating by STELLAService, a third-party rating company that identifies the best in online customer service. This rating acknowledges extraordinary customer service achievement.
"Customer service has always been our top priority at ID Wholesaler," notes Chris Penn, Vice President of Sales and Marketing. "Our STELLAService EXCELLENT rating proves that when it comes to customer service, we really do go out of our way to WOW our customers."
Before receiving the rating, ID Wholesaler was unknowingly subjected to STELLAService's rigorous evaluation process that includes more than 300 customer service metrics, from website usability to interaction with customer support to shipping, delivery and returns. During their evaluation, STELLAService visited ID Wholesaler's website, spoke with their customer service representatives, and purchased and returned a product – all while under cover.
"There are a lot of Internet retailers that talk about their great service performance," said John Ernsberger, co-founder of STELLAService. "We conduct a thorough and consistent evaluation to find out who really delivers and it's great to see that ID Wholesaler is one of those businesses."
STELLAService analyzes thousands of online retailers each year, yet less than half of the companies they rate pass their meticulous rating process. STELLAService does not accept payment from companies to rate them nor can they influence the results. All products are purchased from STELLAService's own funds. These strict standards remove any potential biases and allow STELLAService to accurately and fairly rate online businesses. In turn, this helps customers make more informed buying decisions with companies they can trust.
As the recipient of the EXCELLENT rating, ID Wholesaler is eligible to display the STELLAService seal on their website, an independent trustmark that objectively and credibly communicates to website visitors that the company is committed to quality customer service.
"It's an honor to be in the company of other online retailers that are well known for providing exceptional customer service, such as Zappos.com, REI.com, and, Crutchfield.com," says Penn. "We hope that displaying the seal on our website will give our customers even greater confidence and trust in IDWholesaler.com."
About ID Wholesaler
ID Wholesaler is the largest retailer of the equipment needed to print photo identification cards and the accessories used to display them. Serving its clients with guaranteed lowest prices, expert advice, and free in-house technical support on everything they sell, ID Wholesaler stocks a broad selection of ID card printers and systems, software, supplies, and badge accessories. For more information visit http://www.IDWholesaler.com.
About STELLAService
Founded in 2009, STELLAService is an independent provider of customer service ratings for online retailers. They rate thousands of retailers each year across a broad array of criteria, including usability and online tools, shipping and returns and customer support. Based in New York City, the company also publishes reports and other research to help companies worldwide improve their service operations.
# # #