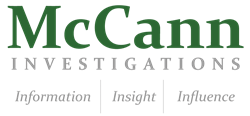 We have seen an increase in cases where our clients believe that they have spyware installed on their computers
Houston, TX (PRWEB) January 19, 2013
McCann Investigations, a Texas-based computer forensics firm released a white paper titled Victims of Identity Theft Should Consider Hiring a Private Investigator. This includes the use of services provided by a private investigative firm with computer forensics background who can examine devices for evidence of network breach and safeguard potential future breaches. The information gathered in the digital forensic examination can provide law enforcement with the evidence they need to track down the perpetrator.
"These crimes often don't get the attention that is needed because there is not enough man power to pursue a case with little or no leads." said John Shirley, Investigative Sargeant in Houston's Financial Crimes Unit. "Active participation from the victim in gathering the data needed by the investigator is crucial. Hiring a private investigations company with computer forensics expertise can provide leads and save time," continued Shirley.
Often the perpetrators use spyware and key loggers that the victim has inadvertently allowed to be installed on a home computer. This malware allows the perpetrator to harvest information about the victim. This data can include login information, passwords, bank account numbers and social security numbers. This data makes it possible for criminals to open fraudulent accounts and transfer funds from financial institutions.
"With so much of our financial business taking place online, it is much easier for criminals to get confidential personal information and use it to open fraudulent accounts," said Daniel Weiss, Private Investigator and Partner at McCann Investigations. "We have seen an increase in cases where our clients believe that they have spyware installed on their computers," continued Weiss.
About McCann Investigations
http://www.mccanninvestigations.com
Twitter - @mccanngi
Facebook - http://www.facebook.com/McCannInvestigations
McCann Investigations is a full service private investigations firm providing complete case solutions by employing cutting-edge computer forensics and traditional PI tools and techniques. For 25 years, McCann's investigators have worked in the public and private sector encompassing law enforcement, physical and electronic security and computer forensics.
McCann works with Law Firms, Financial Firms, Private and Public companies and individuals in cases including contentious divorce, child custody issues, fraud, embezzlement, spyware/malware detection, civil and criminal background investigations, due diligence.
McCann Investigations tools include:
· Computer Forensics
· Mobile Device Forensics
· Spyware/Malware Detection
· Network Breach Detection
· Digital Debugging
· IT Network Vulnerability Assessments