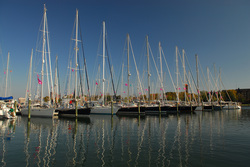 Hampton, VA (Vocus) July 2, 2009
This July 6-12, over sixty female sailors will compete for this year's Ida Lewis Trophy in the U.S. Junior Women's Doublehanded Championship, taking place at the Hampton Yacht Club in Hampton, VA. Competitors must be ages 13-18, must be individual or family members of US SAILING, and must be U.S. citizens. Sailors participating in this year's championship hail from California, Georgia, Maine, Maryland, Massachusetts, New Jersey, New York, and Virginia, among others states. The term doublehanded refers to sailing with two persons on board.
During the event, racing will be conducted over a period of three consecutive days. The race committee will attempt a maximum of 10 races, with three of the races constituting as a regatta. Each race will last forty-five to sixty minutes. A Low Point Scoring System will apply, with each vessel's series score being the accumulation of her total racing scores (the lowest score excluded if six or more races are completed).
Preceding the championship, a two-day mandatory clinic will be held. The purpose of the clinic is to familiarize each competitor with the local conditions and race course. Coaches from US SAILING will conduct the clinics and permission to miss the clinic must be sought by the National Chair in advance.
Schedule:
Monday July 6: 1:00 p.m. - 6:00 p.m. registration
Tuesday, July 7: clinic, lunch, cookout dinner
Wednesday, July 8: clinic, lunch, skippers' meeting, dinner
Thursday, July 9: racing, lunch, dinner
Friday, July 10: racing, lunch, dinner
Saturday, July 11: racing, lunch, awards banquet
Sunday, July 12: departure
Prizes:
**1st Prize- Ida Lewis Trophy (the trophy will be kept at the Ida Lewis Yacht Club in Newport, RI)
** Keeper trophies will be awarded to the top five finishing teams
**US SAILING medals will be awarded to the top five finishing teams
**C Thomas Clagett Sportsmanship Prize will be awarded to a team based on the results of the competitors' secret ballot
**The top half of the fleet, not including competitors who age out in the following year, will be invited to a clinic held in spring 2010 (location and dates to be announced)
Address:
Hampton Yacht Club
4707 Victoria Boulevard
Hampton, VA 23669
757/722-0711
For more information on the U.S. Junior Women's Doublehanded Championship, check out http://championships.ussailing.org/Youth/USJrWomensDoublehanded.htm. Registration is currently closed.
Born 1842 in Newport, Rhode Island, Idawalley (Ida) Zorada Lewis was appointed Newport Harbor's Lime Rock Lighthouse keeper in 1879 and maintained that position until her death in 1911. During her 39 years at Lime Rock, Ida is credited with saving 18 lives (though it may have been as high as 25) and was also featured in Harper's Weekly. In 1924, the Lime Rock Lighthouse was officially changed to Ida Lewis Rock, the only lighthouse ever named after a keeper. Ida Lewis Rock is now the site of the Ida Lewis Yacht Club.
Partially bordered by the Hampton Roads harbor and Chesapeake Bay, Hampton, with the 344,000 sq. ft. Hampton Roads Convention Center, is located in the center of the Hampton Roads metropolitan area. Hampton is the site of America's first continuous English-speaking settlement and is home to such visitor attractions as the Virginia Air & Space Center and Riverside IMAX ® Theater, the Cousteau Society, Hampton History Museum, harbor tours and cruises, Hampton University Museum, Fort Monroe, award-winning Hampton Coliseum, The American Theatre, among others. Hampton was twice-named All-America City, the nation's oldest and most prominent community recognition award.
Contact:
Ryan LaFata
757/728-5328
Carol Giles
757/570-7051
Glenn Giles
757/268-8747
###