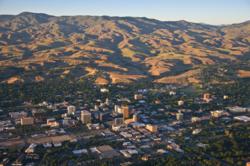 but the first thing most people do is find their own home.
Boise, Idaho (PRWEB) April 03, 2013
A new Boise Idaho Aerial Map is now available. It is the most current map, as the last time the Treasure Valley was photographed was 2006 according to Trey Langford with Build Idaho. "The maps have incredible resolution and provide a perspective that cannot be achieved on a computer as the maps can be enlarged to 70 feet long, The aerial maps provide a big picture look at the area." says Trey Langford.
The maps extend from Lucky Peak Dam west to Caldwell and on out to Homedale. They also include south of Kuna to Bowmont and north to Avimor. The map allows developers to see everything from development potential land to farm ground. "As the map is current, it is a great business tool and also makes for a great discussion piece for offices and retail businesses but the first thing most people do is find their own home according to Langford.
The map is available on many print mediums but the most popular and cost effective is vinyl. "The beauty of Vinyl," says Trey Langford "is that it is versatile. It can be hung on a wall then rolled up to go with you to a meeting and then lain on a table." With the opportunity to enlarge it to as big as 70 feet long, the resolution is incredible which is due to the technology used in photography.
The maps are ortho-rectified and start for as little as $475 for a 3'x6' vinyl version. For more information or for presentation contact Trey Langford, 208/ 724-9636.