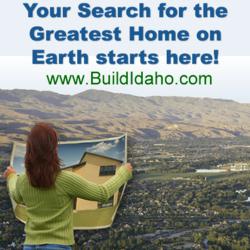 Idaho continues to see many Californians moving in
Boise, ID (PRWEB) December 11, 2012
When the Boise Idaho real estate bubble burst, the economic engine shut down. The lowest point was 2010 when just over 1,200 residential building permits were pulled in Ada County (Boise Metro). During 2011 the light came on and for the first time in 5 years,building permit numbers increased. There was still a large inventory of short sales and foreclosures, but many buyers were turning to new construction.
"By the end of the year" says Trey Langford, founder of Build Idaho, "we could see residential single family building permits jump to over 2,200 which will be a 66% increase from 2011."
This represents many significant things to Boise, Idaho. First new construction is a huge economic engine to the area including jobs and the fact the the population is increasing means more services will be offered. Additionally, it confirms that Boise is in demand as a place to live. Over the last ten years Boise has been recognized by a variety of sources for its lifestyle, affordability, safety and business climate.
"While 2012 has been significant for the area in terms of economic recovery, 2013 should bring more of the same and residential new construction will again be a large contributor to the economics of Boise as thousands of people will call Boise, ID home." says Trey Langford. "Idaho continues to see many Californians moving in."