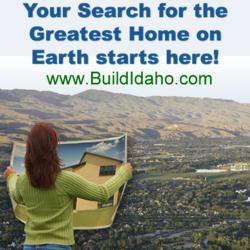 Over Ten Thousand People moved to Boise in 2012, creating amazing opportunities in new construction in Boise, ID.
Boise, ID (PRWEB) April 19, 2013
Last year, over 10 thousand people moved to Boise, Idaho which triggered builders, developers and real estate agents to get back to work. The challenge for builders is finding these home buyers. Builders are not able to meet them through radio, TV or print so internet advertising is growing.
Home Builders are now promoting themselves with Google Pay-Per-Click and other online opportunities. BuildIdaho.com has become a top choice for online marketing as it consistently ranks at the top of search engines for just about anything to do with new construction in Boise, Idaho. Builders are also starting to use YouTube for branded home tours.
"The industry is ready to to advertise again," says Trey Langford. "We have been establishing buildidaho.com as the local authority by producing highly sought after reports about the market and developing an incredible resource for both industry professionals and home buyers. We are now seeing the fruits of our labor become realized." The website now sees 20 thousand monthly visitors, up 20% from 2012.
Additionally, with the Boise Idaho Parade of Homes beginning April 27th, several builders have joined to take advantage of the exposure on the site. "BuildIdaho.com has been preparing for this event since December," says Trey Landford. "We expect to see up to 12 thousand visitors on the site, specifically looking for information about the Parade of Homes, so our clients are excited to be able to promote themselves to so many."
Builders also have realized that marketing homes online is about presentation. They are starting to look for ways to better display their homes including higher-quality photographs, including sunrise and sunset shots. They also are starting to be part of the home tours themselves so that people can meet the builder. One of the benefits business owners have realized is that video is a powerful relationship builder which is very important in real estate sales.
About BUILD IDAHO
Does your company have a marketing strategy? An integral part of this is your organization's internet strategy. The difference between producing average numbers and market leading results can lie in this one strategy. For many organizations developing and implementing a world-class internet strategy, social marketing campaign, and web-site are difficult at best. Most organizations, by the numbers, do not do these well or even know where to start. Enter Buildidaho.com, Idaho's #1 internet site for new home buyers, builders, developers and their partners. Buildidaho.com provides the leading internet and web site consulting and development services, search engine optimization, and social marketing including video.
So how does BuildIdaho.com differ from other internet consulting companies? Price, service, experience and results. Buldidaho.com is the only internet consulting firm that specializes in the homebuilding industry. Build Idaho dominates the search engines for new subdivisions, home builders and new construction searches. It is also consistently ranked in the top 15 search results for 'real estate' and 'homes for sale' searches. It is not the only site with video but one of the few with local interviews of industry professionals and video tours with commentary.