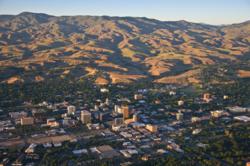 nearly 20% of people moving to Boise are from California
Boise, ID (PRWEB) July 11, 2012
Boise Idaho has experienced continuous population growth since the 70's with major companies like HP and Micron moving to Boise and over the last decade. Boise has also been receiving constant recognition for the business climate, family culture, outdoor opportunities and city life it offers.
Boise was relatively unknown and not considered a great place to live because it was so far from any other major city until about 2000. Then a few media sources recognized the quality of life in "The City of Trees" and the recreational and business opportunities available. Now, people are flocking to live in or near Boise. According to the Idaho Transportation Department, over nine thousand people made the move to Boise, Idaho last year.
Trey Langford, founder of BuildIdaho.com, has figured out that the Treasure Valley sells itself to anyone who spends time here. He has found that people who have a great experience tend to not only shares it but also move here which is why the Boise Idaho Real Estate market is rebounding so quickly.
Trey Langford noted three common themes of people he meets that move to the area. First they are following family. Many people seem to have relatives already here and many seem to be grandparents that want to be closer. A second theme Langford has noticed is that they have been here before and loved it. Lastly, many are from California. According to an In-Migration report by BuildIdaho.com nearly 20% of people moving to Boise are from California.