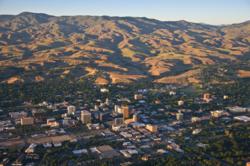 While many brokerages were closing up shop and many realtors were being driven out of the business into other careers, the 4 owners of Core Group believed there was an opportunity to start something unique
Boise, ID (PRWEB) July 13, 2012
Core Group Realty opened its doors in June of 2010 on the premise that Client Oriented Real Estate with a strong work ethic, based on a relationship of trust would be sustainable in any economy. While many brokerages were closing up shop and many realtors were being driven out of the business into other careers, the 4 owners of Core Group believed there was an opportunity to start something unique built once again on exceptional relationships. Relationships amongst themselves, their clients, builders and other agents in the marketplace.
Two years later, CORE has moved to a new location near Boise Townsquare Mall to accommodate the steady growth of their 41 agents and 6 staff members. The new building at 8665 W. Emerald includes 30 offices, 8 cubicles, 3 conference rooms and a training room. According to Owner/Broker, Gabe Cordova "We are excited to move to a more central location that also provides more space. Our new offices will provide agents a warm inviting modern space to spend their time building relationships with their clients and get additional training and support for their day to day business"
Jessica Dalton another Core Group Owner is very enthusiastic about CORE Group Realty moving forward. "We have seen continued success in our marketing strategy and our focus on creating meaningful and beneficial relationships"
In 2012, CORE Group Realty expects to continue to be the leading team building real estate agency in the Boise real estate market.