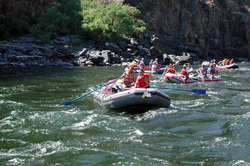 In Idaho, a "family vacation" means a no-stress, low-cost adventure that parents and kids of all ages will never forget.
Boise, ID (Vocus) June 26, 2010
Family vacations shouldn't include long lines, large crowds, or overpriced food and entertainment. In Idaho, a "family vacation" means a no-stress, low-cost adventure that parents and kids of all ages will never forget. Before planning your family's trip to the Gem State, consider incorporating a couple of the top-10 family-friendly adventures into your itinerary. Fun times will follow.
1. Bike the Hiawatha Trail – In northern Idaho, the Trail of the Hiawatha is a 14 mile bike trail along an old 1900's railroad route. This trail takes riders through 10 tunnels and across 7 high trestles, across the Bitterroot Mountains and Idaho/Montana state line. Families can rent bikes for adults and kids, and even travel trailers, from the Lookout Pass Recreation Area who operates the trail. Day tickets are only $9 for adults and $6 for kids. Taking snacks or even a picnic is a good idea for keeping the energy levels up.
2. Learn to Cast Your Own Line – The Snake River runs throughout Idaho and there is some of the best fly-fishing in the world in Ketchum and Sun Valley. Local outfitters like the Silver Creek Outfitters offer highly customized, guided trips, usually for two people – the perfect father and son outing.
3. Learn to Ice Skate in the Summer – Central Idaho is home to Sun Valley, the tucked-away Idaho resort town that's famous for being the first destination ski resort-in the nation. But Sun Valley is a blast in the summer too. Against the backdrop of the Rocky Mountains, kids can learn to ice skate on the Sun Valley Resort's outdoor ice skating rink.
4. Explore Craters of the Moon – East of Sun Valley, the Craters of the Moon National Monument & Preserve is a sprawling 750,000 acres of lava flows. Kids can pick up a copy of the Lunar Ranger booklet at the visitor center, complete its activities throughout the day, and earn a Lunar Ranger badge. Craters of the Moon National Monument is an endless playground that will feed kids' imagination and give them plenty of rare geography to explore.
5. Ride a horse in the Wild West – Saddle up. Many Idaho outfitters and guest ranches offer horseback riding lessons and tours. Lewis & Clark Adventures of Gibbonsville, in central Idaho, take families on horseback and rafting tours along the same route that Lewis and Clark traveled with Sacajawea. This trip pairs adventure and education as kids and parents learn about the land and history of the pioneers who explored it.
6. Actually, DO Feed the Bears – Visit Yellowstone Bear World in Rexburg, Idaho for some up-close and personal interaction with the wild. With the assistance of professional keepers, visitors can bottle feed bear cubs. Curator tours take visitors through the park in an open-top but secure vehicle. Rocky Mountain elk, bison, moose, wolves, and bears are just a few of the wild animals that roam the park.
7. Ride Whitewater Like a Pro – Idaho has more miles of whitewater than any other state in the contiguous U.S. The Idaho Whitewater Guide is an online resource for family-friendly trips and outfitters that can get you in the raft and on the river.
8. Float the Boise River – A pleasant surprise smack in the middle of Idaho's capital city, the Boise River runs right through downtown. A favorite summertime activity for locals and out-of-towners is to float this pristine, crystal clear river. Epley's, a local outfitter, rents rafts and tubes, and also offers shuttle services that take rafters from one end of the float to another. Alcohol is prohibited on the river, allowing for a family-friendly environment.
9. Bruneau Dunes – Climb up it; slide down it; run across it – the Bruneau Dune is the tallest single-structure sand dune in North America. It offers countless physical, fun challenges. At the base of the dune there is a small lake that is fun for frolicking.
10. Take a Dip in Nature's Hot Tub – Idaho has more natural hot springs than any other state. Often, getting to the hot springs is half the adventure. Near McCall, the Burgdorf Hot Springs, are near the old town of Burgdorf, which was settled in 1870 and is now considered a ghost town. Families can rent cabins and stay for the night; soak in the hot springs during the day and explore the wide-open natural surroundings. More renowned and frequented, the town of Lava Hot Springs earned its name from the local hot springs that Indian tribes used to gather for centuries. Now, visitors can enjoy the odor-free mineral pools and an indoor mineral spring swimming pool with family recreational facilities like a poolside climbing wall.
For additional ideas on how to have an active, inexpensive, adventure-filled family vacation, visit http://www.greatidahogetaway.org or http://www.visitidaho.org.
Idaho—Adventures in Living
Idaho is home to thousands of miles of biking trails, mountains to climb, lakes to fish, 17 ski resorts and more whitewater than any other state in the lower 48. So take a break from it all and come out to play. Idaho—adventures in living. Visit http://www.visitidaho.org for more information and vacation ideas.
###