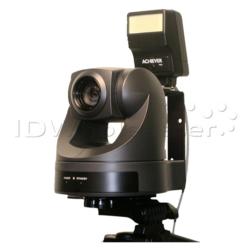 Chanhassen, MN (PRWEB) September 11, 2012
Those new to creating photo ID badges often inquire about using a basic webcam. While any camera can be used to snap photos for an ID badge, there are advantages to using a professional photo ID camera, according to ID Wholesaler, the leading retailer of photo identification products.
Discover Advanced ID Camera Features
"There are two primary benefits an ID camera offers: time savings and image quality," explains Jennifer Clancy, marketing manager at ID Wholesaler. "Professional ID cameras communicate with the ID software loaded on your computer to save you the hassle of uploading and cropping photos. Plus, the image quality is exceptional, which is an important part of creating a high-quality ID badge."
A variety of advanced features are available in most professional ID cameras. For example, you'll be able to control your camera's settings and manage your photos right from your computer. For example, you can see a live video feed on your PC monitor and take a picture from your computer with the click of a mouse. After snapping the photo, crop it, save it, and automatically place it you're your card template in your ID software.
Some ID cameras also offer facial recognition technology to automatically cut and crop the photo to the size needed. With this method, you don't need to worry that some people will stand too close to the camera while others are too far away. This provides a very consistent look to all employee ID cards.
While the quality of your images can be manipulated in your ID software, image quality is mostly determined by the camera. Professional ID cameras offer superior image quality to ensure that the cardholder's image will be clearly identifiable.
Upgrade to a Professional ID Camera & Save at ID Wholesaler
ID Wholesaler encourages all organizations to consider adding a professional ID camera to their photo ID system. For added cost savings, ID Wholesaler's most popular digital cameras are on sale now through October 31, 2012.
The ID camera sale includes the two VALCam cameras that offer the most advanced ID camera features available, including full control of pan, tilt, zoom, and brightness via the mouse or keyboard. VALCam cameras offer the highest quality results, even in challenging lighting conditions and are TWAIN compatible. Plus, during ID Wholesaler's ID camera sale, VALCam cameras are an additional $100 off.
Also on sale is a TWAIN driver and Canon camera bundle. The TWAIN driver includes face finding capabilities and allows control of your camera from your PC. The TWAIN packages is an additional $50 off during ID Wholesaler's sale.
"A digital ID camera allows even those new to photo ID to take crisp, professional-quality images efficiently," says Clancy. "With features like the VALCam's auto adjust, you'll take vivid, high-resolution images with perfect skin tones with every snap."
For more information about ID card printing, visit http://www.IDWholesaler.com or talk to an ID Professional at (800) 321-4405.
About ID Wholesaler
ID Wholesaler is the largest online retailer of photo identification products, serving its clients with guaranteed lowest prices, expert advice, and free support on everything they sell. ID Wholesaler stocks a broad selection of ID card printers and systems, ID software, supplies, and badge accessories from the leading manufacturers. For more information, visit http://www.IDWholesaler.com.